Indigenous People in Wyoming are Disproportionately More Likely to be Murdered or Go Missing, New Report Shows
Distrust among Indigenous people and law enforcement continues to be an obstacle
The recently released Wyoming Missing & Murdered Indigenous People task force update for 2023 documented a continued distrust of Indigenous people toward law enforcement. (Courtesy photo from Desiree Tinoco)
By Jennifer Kocher
Special to the Wyoming Truth
Despite representing less than 3% of the state's population, Native Americans in Wyoming are disproportionally more likely to go missing or be murdered than other demographic groups, according a report released last week. In 2022, Indigenous people accounted for 12% of homicide victims in Wyoming. The Indigenous homicide rate was 18.3 per 100,000 citizens, which is nearly six times higher than the homicide rate for White victims, the report found.
These findings were shared at the Wyoming Missing and Murdered Indigenous People (MMIP) Task Force meeting at the Wind River Casino in Riverton on May 17. This was only the second in-person meeting since Gov. Mark Gordon founded the task force in 2019, when the pandemic forced quarterly meetings online in early 2020.
The report, which was conducted by the Wyoming Survey and Analysis Center (WYSAC), came on the heels of a similar report in 2021 addressing some of the vulnerabilities facing Indigenous communities. In the two years since that report was released, 216 Indigenous people were reported missing from nine Wyoming counties, some of them more than once.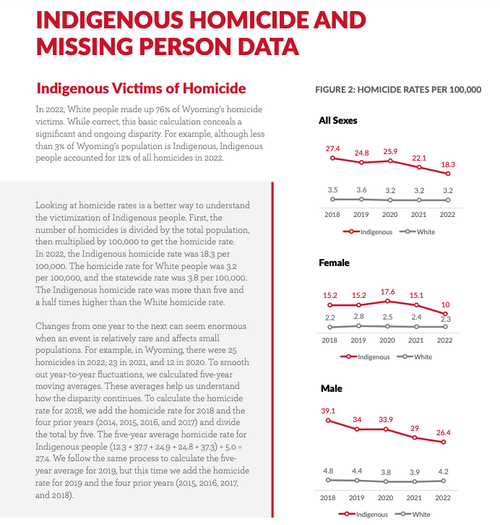 In 2021 and 2022, the majority of those reported missing were female, most between the ages of 5 through 17 at the time they disappeared. Upon the release of the report last week, there were 97 active missing person cases within the state. Of these, 11 are Indigenous people.
Task force accomplishments
Despite the grim statistics, the task force outlined three recommendations the state has met to address some issues facing Indigenous communities.
These include implementing the first state-wide missing person database through the Wyoming Division of Criminal Investigation, which also created a list of all the unsolved homicide cases in Wyoming.
Additionally, the task force established an advocacy position to help families navigate the reporting and investigation process with law enforcement. The Bureau of Indian Affairs hired Rebecca Morin to fill this position in 2022.
A third recommendation was to continue education and awareness of the issues facing Indigenous communities, as well as share a list of accessible resources. To this end, the task force contracted with Caldera Productions and Jordan Dresser, former chairman of the Northern Arapaho Business Council, to produce the documentary film, "Who She Is," to highlight gender-based violence experienced by Indigenous women.
Also in 2023, Gordon signed into law HB0018, "Missing Person Alert Systems." This bill replicates the national Ashanti Alert, named for Ashanti Billie, a young Virginia woman who was kidnapped and murdered in 2017. The alert system, much like the Amber Alert, will notify the public when a person over the age of 17 goes missing or is in imminent danger.
Existing barriers and challenges
Many Indigenous community members interviewed for the report expressed relief that they were finally being seen. Other stakeholders said that they felt like the MMIP issue has united the community. But some people are skeptical that anything will change.
"I know there has been the report – but what does that really mean? We don't see any changes," one anonymous community stakeholder stated in the report.
The interviewees — all identified as "community stakeholders" — reported a fundamental distrust in law enforcement, none of whom attended the meeting last week. Their general consensus highlighted issues related to past interactions with law enforcement, including what they perceived to be police misconduct, abuse and indifference, as well as an inherent bias against Native Americans.
One community stakeholder stated: "I believe that some people have had an unfriendly encounter with the police (and there are many) have little faith that anything will be done."
Others said they believed their cases were not taken seriously by law enforcement, particularly those victims who have had a past encounter with the Wind River Police Department.
Additional challenges include jurisdictional barriers that make it difficult for law enforcement agencies to coordinate on cases and for family members to know how to get information or updates on cases.
The inherent distrust between tribal members and law enforcement is exasperated by Native Americans' fear of being retaliated against by perpetrators for reporting the crime, according to those interviewed for the report. There is widespread fear that police will arrest a family member on unrelated crimes – such as an outstanding warrant – should they report a person missing.
These concerns echoed those expressed in the 2021 report, and many were brought forth for the task force to address in the coming months as next orders of business.
Ultimately, the report indicated much work is still to be done: "This report's findings indicate that relationships must be built between law enforcement, government agencies, media and community members to address the MMIP crisis."
Cara Chambers, task force chair and director of the Division of Victim Services for the Wyoming Attorney General's Office, led the meeting in Riverton and was encouraged by the community participation.
"I think there are a lot of tangible next steps, but I believe the task force will continue to evolve as it moves forward," she wrote in an email to the Wyoming Truth.
Along with receiving a half dozen names of people who would like to join the task force, Chambers said many important topics were discussed during the meeting, including substance abuse, mental health and inter-governmental relations.
"But ALL of those roads lead to the same outcome if we don't address all of them together," she said. "I think that was the big difference for me from the first meeting in July 2019 to last week. And I think that is great."