LEGISLATIVE WATCH WYOMING: Bills to Bolster Access to Mental Health Care Narrowly Clear Senate Committee
The measures would make it easier for Wyomingites to access counselors and psychologists out-of-state
Published In: Politics
Last Updated:

Jan 17, 2023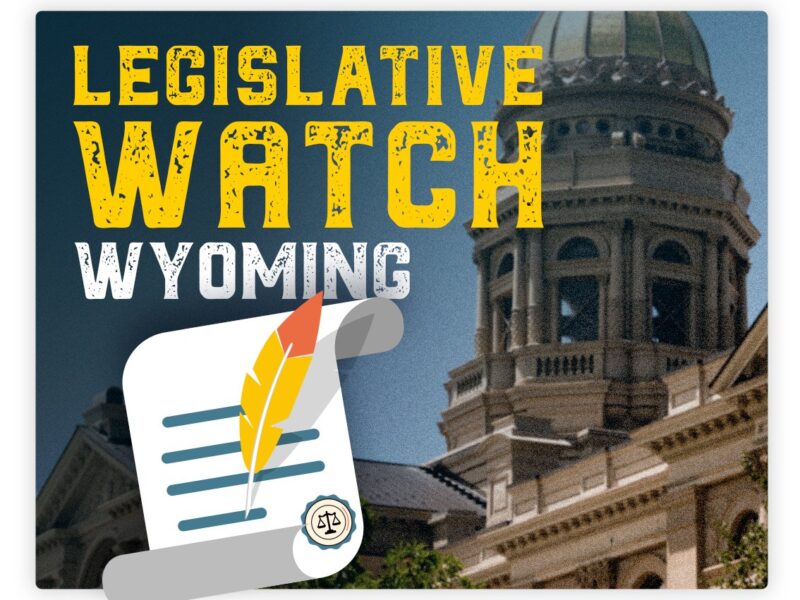 By Jacob Gardenswartz
Special to the Wyoming Truth
Two measures intended to address the crisis of suicide in Wyoming narrowly cleared a crucial hurdle on Monday after they were favorably reported out of the Labor, Health and Social Services committee.
Senate Files Nos. 10 and 26 would authorize Wyoming to join the interstate compact for licensed professional counselors and psychology interjurisdictional compact respectively, two national agreements that enable mental health professionals to more easily receive proper licensing to provide their services to residents out of state.
Each U.S. state sets its own rules and policies for how mental health professionals are licensed. In Wyoming, for example, those seeking to become a professional counselor to provide therapy and other mental health services must first apply to a state licensing board, pay a fee and prove they meet the qualifications — including passing certain exams, receiving higher education and completing thousands of hours of supervised training. The process to become a licensed psychologist in Wyoming is similar, but because such individuals work in a clinical setting, their licensing includes even more requirements.
Currently, mental health professionals within Wyoming seeking to provide virtual care to patients out-of-state must apply for reciprocity from each individual state in which they seek to practice, a process that can be both lengthy and costly. Similarly, those not living in Wyoming who want to serve Equality State residents must apply for reciprocity from the Wyoming licensing board.
Should the measures become law, Wyoming counselors and psychologists who opt into the compacts would more easily be able to provide out-of-state care to anyone residing in the dozens of states participating in the programs — 16 in the case of the licensed professional counselor group and 35 in the case of psychologists. Similarly, any professionals living in one of the compact states who joined the agreements would be able to provide services to Wyomingites.
Support from mental health leaders
In a state which had the nation's highest suicide rate for the past several years, the measures were welcomed by the mental health community.
"We have a pretty substantial workforce challenge right now," testified Andi Summerville, executive director of the Wyoming Association of Mental Health and Substance Abuse Centers. "If you did a job search on Indeed, or a licensed mental health counselor, a therapist, a licensed clinical social worker, you would find a plethora of job opportunities, not just in my community mental health centers but in hospitals and other private practices."
"This compact certainly is one of many tools that we believe we need to employ to try to attract more folks into the state to meet our mental health need," Summerville added.
Representatives from several other mental health groups echoed those remarks. Individuals representing the Wyoming Counseling Association, AARP Wyoming, Wyoming Youth Services Association, Wyoming National Alliance for Mental Illness Board, Wyoming Mental Health Licensing Board, American Counseling Association, and the Wyoming Psychological Association each spoke in support of the policies.
Still, the hearing was not without controversy. Sen. Lynn Hutchings (R-Cheyenne) emerged as a prominent critic of the proposals. "I'm not a big fan of compacts. And this one in particular, kind of scares me," Hutchings said early in the hearing.
Among Hutchings' greatest concerns was whether Wyoming mental health professionals participating in the compacts would be beholden to laws emanating from "other states that may be more liberal minded." She raised a particular issue with the counselor compact, as the rules governing the newer agreement are still in development.
But experts and advocates noted that mental health professionals must abide by the local rules regardless of whether they're in the compact or not. A psychologist who lives in Wyoming but provides care to a patient in Colorado must abide by Colorado's policies, just as a therapist living in Nebraska would have to abide by Wyoming's rules if that's where the patient lived.
Hutchings also voiced skepticism about why the compact was needed, when those seeking to practice out-of-state can already apply for reciprocity. But advocates noted that's been the case for some time and the state's mental health problems persist.
"Reciprocity exists now, and we have the problem now," the Wyoming Youth Services Association's Bruce Berkland said plainly. "So anything we can do, to try to help make that better and improve, that would be helpful."
Ultimately, both bills were favorably reported out of committee with a vote of 3-2. Sens. Eric Barlow (R-Gillette), Dan Dockstater (R-Afton) and Fred Baldwin (R-Kemmerer) voted "aye" while Hutchinson and Sen. Anthony Bouchard (R-Cheyenne) opposed.
The bills were placed in the General File and will await further consideration by the Committee of the Whole.