LEGISLATIVE WATCH WYOMING: Cheyenne Senator Battles Postpartum Medicaid Extension Bill
Sen. Lynn Hutchings called measure 'welfare,' was lone 'no' vote on Senate Health Committee
Published In: Politics
Last Updated:

Feb 23, 2023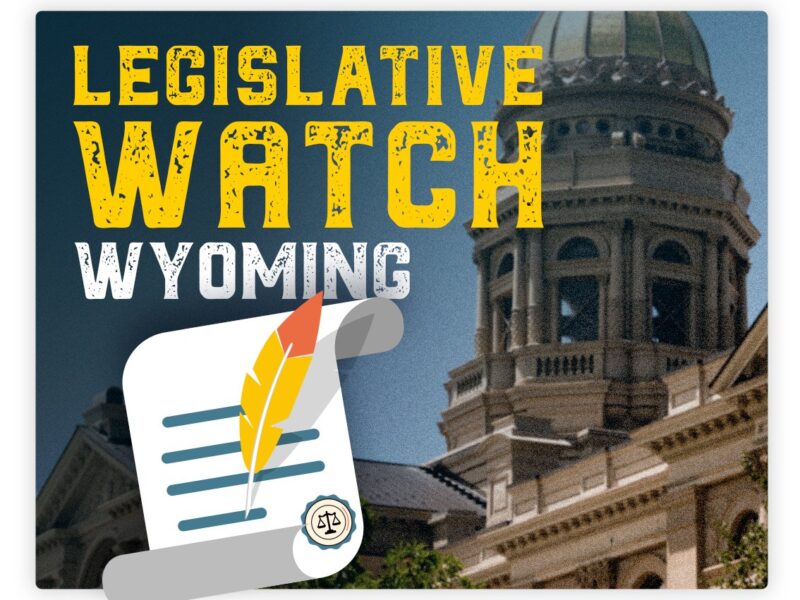 By Ellen Fike
Special to the Wyoming Truth
A Cheyenne senator grilled health care experts and individuals who testified in support of a bill Wednesday that would extend Medicaid coverage, asking why Wyoming should move this legislation forward.
House Bill 4 would temporarily extend Medicaid medical assistance to qualifying pregnant women for 12 months postpartum. The bill is sponsored by the Joint Labor, Health and Social Services Interim Committee, which is comprised of 14 senators and representatives, 13 of whom are Republican.
The measure passed the Senate Labor, Health and Social Services Committee 3-1, with Sen. Lynn Hutchings ( R-Cheyenne), who vigorously questioned the witnesses, voting "no" on moving the bill forward to the Senate floor. Committee member Sen. Anthony Bouchard (R-Cheyenne) did not attend the meeting.
The bill was placed on the Wyoming Senate's General File list on Wednesday, not long after the committee finished hearing testimonies.
This was the final bill the committee will take up for the 2023 general legislative session, Chairman Fred Baldwin (R-Kemmerer) told the audience on Wednesday.
Wyoming Department of Health Director Stefan Johansson testified that Wyoming currently extends Medicaid coverage for qualifying postpartum mothers for only 60 days after childbirth. The American Rescue Plan allows a provision for states to extend their Medicaid coverage to mothers for up to one year, which prompted the Joint Labor, Health and Social Services Interim Committee to sponsor the measure.
Extending the coverage would cost Wyoming around $3.8 million in state general funds, Johansson said. The estimated enrollment increase is projected to be about 1,250 people on a monthly basis.
Hutchings questioned why Wyoming should offer such an extension. "I don't look at Medicaid as insurance. I look at it as full-blown welfare. You're giving people money, services, no skin in the game. They're just getting this benefit for really nothing, just by virtue of being pregnant," Hutchings told the committee.
Jen Davis, the health and human services policy advisor to Gov. Mark Gordon, spoke in support of the bill.
"Gov. Gordon, as a pro-life governor, believes that this is an avenue to ensure that we take care of women and infants and making sure women have the coverage they need by extending [Medicaid] for 12 months," Davis testified. "This is for women who may be struggling with any physical ailments due to delivery past six weeks or any mental health issues. As we know, six weeks postpartum is when most [doctor] visits happen, and very often, that might be a time when maternal depression is diagnosed."
Currently, newly postpartum mothers receive a couple of weeks of coverage to seek treatment for any pregnancy-related mental health struggles or physical ailments before their Medicaid benefits expire, Davis noted. The proposed coverage extension will support postpartum mothers and infants for the next year.
When asked by Sen. Dan Dockstader (R-Afton) whether she believed the postpartum Medicaid extension would support the state's overall mental health improvement plan, Davis responded "Yes."
"Many women suffer from postpartum depression and [left untreated] will lead to further mental health issues," Davis testified. "We want to ensure we're getting women the support they need right away."
Hutchings questioned whether postpartum mothers are dying by suicide and whether extending the Medicaid coverage would prevent these deaths. Davis did not have any data on hand, but noted the risk of suicide increases when depression goes untreated.
Members of the Wyoming Psychological Association also spoke in support of the bill. Member Hollis Hackman cited a 2021 article in the Journal of the American Medical Association Psychiatry which reported suicide attempts have tripled nationwide in the last 10 years.
"We know from other research, 63% of suicides in postpartum women occur between day 43 and day 365, so that's outside of the two month period that's presently covered with Medicaid," Hackman testified.
Hutchings also questioned the number of women who actually get postpartum depression (PPD). According to the National Library of Medicine, around one in seven women can develop PPD.
Cheyenne Central High School student Gwyneth Hargett was one of over 20 Wyoming residents who testified via Zoom and in person in support of the bill. She told lawmakers that the measure is a financial necessity for postpartum women and that the extension would decrease postpartum health complications.
"A pregnant woman can qualify for postpartum care if she is making less than $1,745 a month," Hargett said. "The spending required for adequate postnatal care is approximately 95% of the maximum monthly salary a single individual on Medicaid can earn. There is absolutely no way that a mother can pay for housing, food and the other essentials while also paying for postpartum care."
The bill will next go up for debate on the Wyoming Senate floor.