LEGISLATIVE WATCH WYOMING: Gov. Gordon Allows Measure Banning Trans Girls from School Sports to Become Law Without His Signature
The governor called the measure 'draconian' and 'discriminatory,' but opted not to veto it
Published In: Politics
Last Updated:

Mar 19, 2023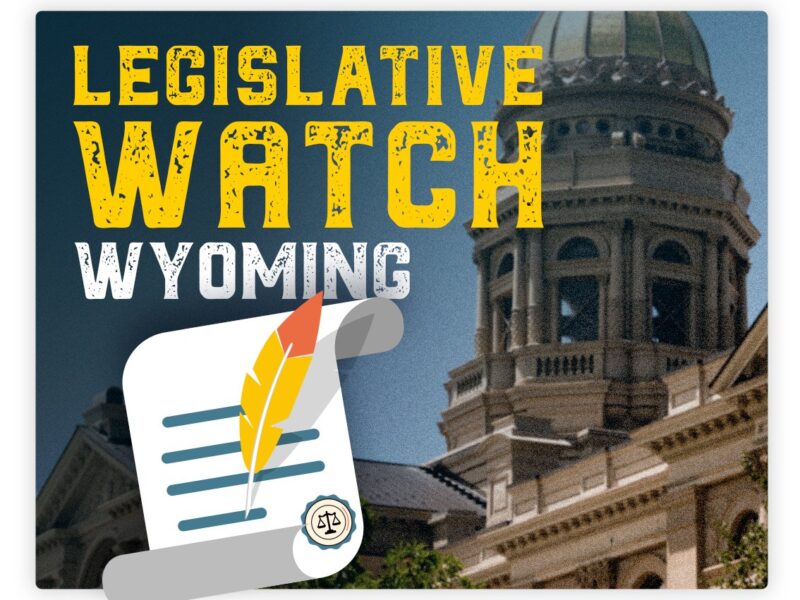 By Jacob Gardenswartz with C.J. Baker
Special to the Wyoming Truth
Wyoming Gov. Mark Gordon on Friday evening said he would enable Senate File 133, a controversial measure to prohibit transgender females from participating in interscholastic girls' sports, to take effect without his signature.
Gordon wrote in a letter to Wyoming Secretary of State Chuck Gray that he understands the desire to ensure fairness in high school sports, but "by enacting an outright ban on transgender individuals participating in sports teams I believe Wyoming sends a harmful message that these individuals and their families do not deserve the same opportunities as others."
The ban will take effect in July. Gordon wrote that he intends to work with the state superintendent "to ensure that there is clear guidance… regarding the opportunities that will exist moving forward for transgender students to have some means to participate safely in interscholastic activities after this law goes into effect, recognizing sadly that may mean these young people may not be able to compete in athletics."
Gordon additionally said he views the law as "overly draconian" and "discriminatory," though he opted not to exercise his veto power, as civil rights groups throughout the state had called on him to do. Earlier this year, a representative for Superintendent of Public Instruction Megan Degenfelder told a Senate committee she supported the measure.
A solution without a problem?
The new law prohibits public school students "of the male sex" from participating in "an athletic activity or team designated for students of the female sex." Effective July 1, students in 7th through 12th grade who were assigned male at birth are barred from participating in female sports teams, even if they now identify as girls.
The law also establishes a "school activity eligibility commission" to "promulgate rules to determine eligibility based on physical characteristics for the age and gender group" for students seeking an exception to the law. Gordon called the commission "a superior course of action" to the outright ban.
In a committee meeting in January, lead sponsor Sen. Wendy Schuler (R-Evanston) said the bill was needed to "keep the biological females at the forefront of the equation," insisting "it's their playing field, it's their safety, it's their welfare that should be uppermost."
But opponents of the law have argued the measure attempts to solve a problem that doesn't exist in Wyoming. In his letter, Gordon noted the Wyoming High School Athletic Association has already instituted a process to handle such matters on a case-by-case basis. Testifying before the committee earlier this year, Sara Burlingame, executive director of the LGBTQ rights group Wyoming Equality, said that policy adequately balances concerns for fairness with respect for transgender students' identities.
"The current standard that we have, the current policy that we have, acknowledges that all students in Wyoming have the right to participate," Burlingame said. "But it also acknowledges that sometimes there's an unfair playing field, and it addresses that. It doesn't erase it."
A representative for the Wyoming Education Association echoed those sentiments, telling the committee "we have a process in place that works, and this does rob local control."
After the bill was enabled to become law, Antonio Serrano, advocacy director for the ACLU of Wyoming, said in a statement it amounted to "codify[ing] discrimination," arguing the law is not about "leveling the playing field" but "erasing and excluding trans people from participation in all aspects of public life."
Concerns about impact on students' mental health
Opponents of the new law have also raised concerns that the measure could stigmatize transgender students, many of whom already struggle with mental health challenges.
Bruce Berkland of the Wyoming Youth Services Association, a nonprofit organization that provides support to troubled youth throughout the state, testified against the bill. "All youth — including transgender youth — need connection in places to belong and feel connected and accepted," he said.
In his letter, Gordon noted that "messages like these, whether explicit or implicit, can have a devastating impact on the mental health and well-being of individuals who already face significant discrimination and marginalization."
"Wyoming continues to lead the nation in suicide rates, and I am concerned that by enacting a ban we may be pushing these students farther down this road rather than finding ways to support them," he added.
A growing GOP concern, with legal challenges likely
In passing SF133, Wyoming became the nineteenth state to enact some sort of measure prohibiting students from participating in school sports that align with their gender identity, according to a report from the Movement Advancement Project.
Republicans in Washington are also working on a national measure that would block trans students from participating in sports aligned with their identities. In early March, members of the U.S. House Education and Workforce Committee moved forward with a proposal to make it a Title IX violation for facilities that receive federal funding to allow transgender girls to compete in female sports.
A full vote on that bill is expected as soon as this week. Though such a proposal may clear the House of Representatives, which is narrowly controlled by Republicans, it's unlikely to pass the U.S. Senate, which remains held by Democrats.
Meanwhile, critics and supporters alike have said court challenges to the Wyoming bill are likely. House Education Committee Chairman Rep. David Northrup (R-Powell), who cast the deciding vote to bring the measure before to the House floor, said at a recent forum in Cody that it could face a potential legal "problem" given that it bars transgender girls from participating in girls' sports but not transgender boys from playing on boys' teams.
"Our constitution says 'equal,' [so] somebody can throw a flag," Northrup said.
Lawmakers in Wyoming attempted to pass a similar bill in 2022, one that cleared the Senate but not the House. The new law draws on language from a bill passed by the Utah legislature last year, overriding a veto by Republican Gov. Spencer Cox. The Utah measure is currently on hold amid legal challenges.
In 2022, a federal appeals court upheld a policy in Connecticut enabling transgender students to participate on teams aligned with their identity and ruled against four cisgender students who argued that policy was discriminatory. That court is set to reconsider the students' case later this year—an unusual move with potential national implications.