LEGISLATIVE WATCH WYOMING: House Committee Advances Bill to Set Minimum Marriage Age
Cheyenne Republican says stopping child marriage a priority
Published In: Politics
Last Updated:

Jan 18, 2023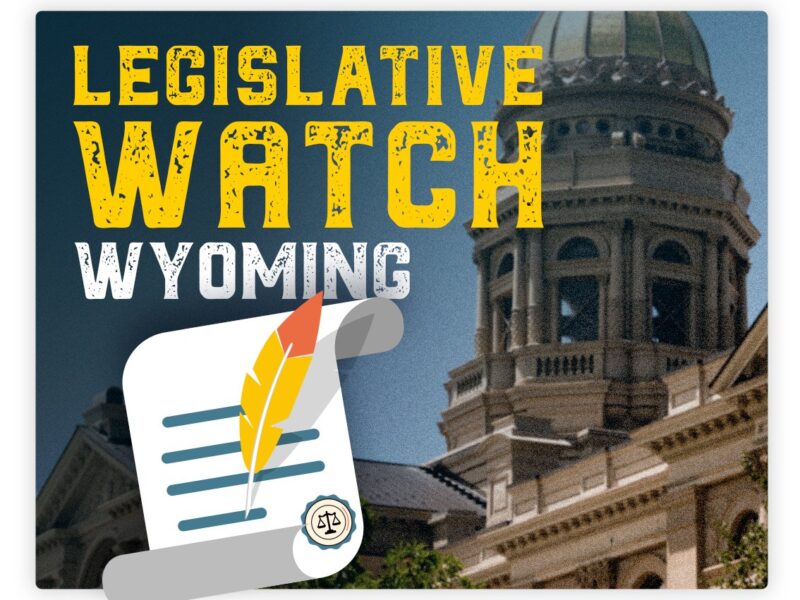 By Shen Wu Tan
Special to the Wyoming Truth
A House committee on Tuesday advanced a bill that would set a minimum age for marriage in Wyoming.
The House Revenue Committee voted 6-3 for House Bill 7, or "Underage marriage-amendments," which states that individuals getting married should be at least 18 years old with a few exceptions. It also forbids marriages involving those under the age of 16.
"Right now, eight states in the country do not have any minimum age [for marriage], including Wyoming," said Rep. Dan Zwonitzer (R-Cheyenne) during the meeting. "What I've tried to do in this bill before you, in House Bill 7, is to meet those already existing carve-outs in Wyoming law that do allow 16 or 17 year olds the possibility to get married with an actual district court or circuit court judge to allow that….Just setting an age in our statute I think is extremely important to stop child marriage."
The bill notes that all marriages involving someone who is 16 or 17 years old are "prohibited and voidable" unless a judge of a court of record in the state approves the marriage and allows the county clerk to issue a license.
If either person is 16 or 17 years of age, a marriage license cannot be issued without verbal or written consent of a parent, guardian or other individual who takes care of the 16- or 17-year-old. At least one witness must offer testimony to prove written consent. As outlined in the bill, a county clerk can refuse to issue a license if either person is 16 or 17 years old and consent of a parent or guardian has not been given.
Additionally, the legislation would void all marriages involving those under age 16. The act, if passed as is, would apply to all marriages on and after July 1, 2023.
In 2022, there were 4,207 marriages licensed in Wyoming, of which 16 included one spouse under the age of 18, according to provisional figures provided to the Wyoming Truth by Guy Beaudoin, deputy state registrar for the Wyoming Department of Health's Vital Statistics Services.
Over the last 11 years, an average of roughly 4,200 marriage licenses were issued in the state annually. An average of 20 marriages each year involved a spouse under 18, Beaudoin informed the House committee on Tuesday.
Along with Wyoming, seven other states don't have a minimum age requirement for marriage: Washington, California, New Mexico, Oklahoma, Mississippi, Michigan and West Virginia. That data comes from Unchained At Last, a nonprofit organization aimed at ending forced and child marriage in the United States.
A few people testified Tuesday before the House committee in favor of House Bill 7, including Denise Parrish, secretary of the Zonta Club of Cheyenne.
She told the committee the club has a signature project globally to try to end marriages for those under the age of 18.
"Given the lack of minimum age limits in Wyoming, we believe this is a good start," Parrish said about House Bill 7. "We would prefer to see the limit be 18 rather than 16, but we do support this bill as a starting point…. There are a number of statistics that point out that minors that marry early have – and the marriage doesn't work out – have some really terrible circumstances in their life."
Parrish also shared that most shelters and safe houses won't accept minors, so if there is abuse in a marriage and someone younger than 18 is involved, that person might not have access to the same resources an adult would. Additionally, minors could struggle in contracting with divorce lawyers or obtaining other legal assistance if they want out of a marriage, she noted.
While most of the House revenue committee members voted for the bill, three representatives voted against it: Rep. John Bear (R-Gillette), Rep. Tony Locke (R-Casper) and Rep. Tomi Strock (R-Douglas).
"Although I am in general opposed to the government meddling in the institution of marriage, this bill has exemptions for those below the age of 18," Bear told the Wyoming Truth. "If we are going to protect minors from being abused by adults, those exemptions should not exist."
The bill now moves to the full House for consideration.