LEGISLATIVE WATCH WYOMING: Key Priorities for This Year's General Session
From tax cuts to transgender issues, lawmakers have a long list of goals for 2023
Published In: Politics
Last Updated:

Jan 10, 2023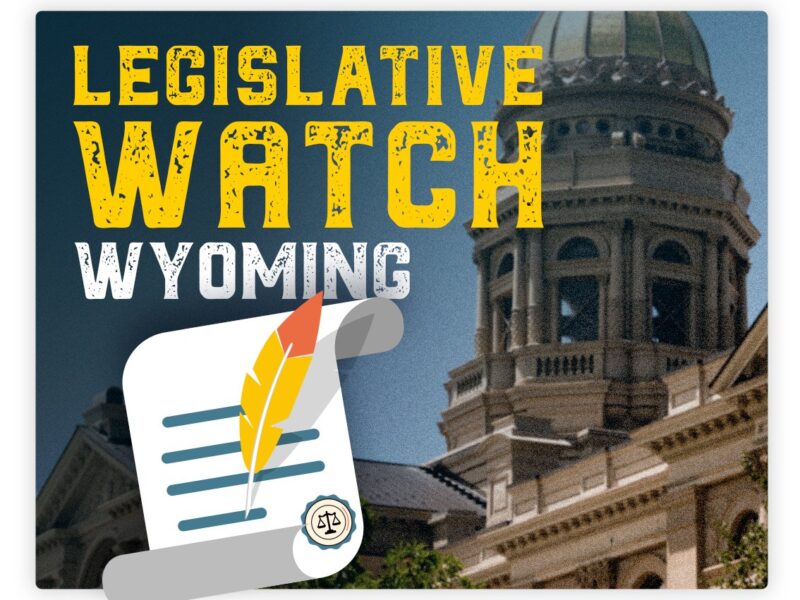 By Jacob Gardenswartz, Shen Wu Tan and CJ Baker
Special to the Wyoming Truth
Wyoming state legislators return to Cheyenne today for the start of the 2023 general session, a period during which lawmakers have just 40 legislative days to debate and vote on dozens of measures impacting everything from taxes to tribal issues to health care.
Already, nearly 140 draft bills are publicly circulating, with many more expected to be released as the session gets underway; any one legislator can attempt to introduce a measure during the general session, even if a committee declined to sponsor it. During the last general session in 2021, the legislature considered 441 bills in total. Lawmakers are prepared for even more this time around.
This year's session will feature new faces, with almost 30 freshmen headed to the Capitol. The events kick off with opening ceremonies at noon on Tuesday, followed by a brief recess before the introduction and referral of bills begin later that afternoon. All floor proceedings and committee meetings will be livestreamed on the legislature's YouTube channel.
On Wednesday, Gov. Mark Gordon will deliver his annual "State of the State" address, followed by Wyoming Supreme Court Chief Justice Kate M. Fox's "State of the Judiciary" remarks. Follow along with the Wyoming Truth's coverage of it all in the "Legislative Watch Wyoming" series.
A larger, redder legislature prepares for work
Wyoming's 67th Legislature will be a little larger — and potentially more conservative — than the last.
As lawmakers realigned the state's legislative districts last year to match the latest population data, they added three seats to the body, for a total of 62 representatives and 31 senators.
In the House, 27 members are new to the Legislature — including three representatives in their 20s — and two others are returning to the chamber after years away.
The turnover is less dramatic in the Senate, where two of the five new senators — former House Speaker Eric Barlow (R-Gillette) and Dan Laursen (R-Powell) — are moving up from the House. Sen. Laursen has already been at the center of controversy, as incoming Senate President Odgen Driskill (R-Devils Tower) refused to seat him on any major committees. Driskill said that Laursen has demeaned and failed to work with fellow legislators, while Laursen said he was targeted for being critical of and more conservative than legislative leaders.
The chairman of the staunchly conservative Wyoming Freedom Caucus, Rep. John Bear (R-Gillette), recently estimated that the group gained 10 members and sympathizers, with roughly 27 representatives now aligned with the caucus. That prompted a tight battle among more moderate and more conservative Republicans for leadership positions in the House.
Still, despite the rifts between the Legislature's Republicans, the party remains firmly in the driver's seat. The GOP picked up four more positions in last year's elections to now hold 86 of 93 seats.
Lawmakers consider property tax holidays and boosting their own compensation
Given the state's sharply rising property values, the Legislature is expected to consider a variety of ways to give residents some relief from the associated property taxes — from expanding an existing refund program to tying homeowners' taxes to what they originally paid for their residence.
Also up for consideration are a series of bills that would boost lawmakers' compensation by adding health insurance coverage and upping the amount of money lawmakers receive for their expenses. Proponents say offering better pay would open the door to a broader range of Wyomingites to serve in the Legislature. However, the added costs are a concern for opponents — and voting to increase politicians' pay can be a political liability. That's one reason why the Legislature's Management Council is proposing that an independent commission recommend appropriate pay for the state's elected officials.
Medicaid expansion on the agenda… again
For the eighth time in recent years, lawmakers will again consider whether to expand access to Medicaid, the federal health insurance program for older and low-income Americans.
The Affordable Care Act, better known as Obamacare, allows states to expand Medicaid services to cover most low-income residents. To-date, 39 states and D.C. have taken advantage of that provision. Wyoming is just one of a handful of conservative states that has opted not to expand insurance coverage.
Advocates hope that changes this year. They point to newly-appropriated federal funding that would enable the state to make money in the short term if Medicaid is expanded; if expansion is enacted, the Wyoming Department of Health estimates at least 19,000 uninsured Wyomingites would gain coverage, and the state would save a net $32 million after two years.
Still, expansion is not without its opponents. Some conservative lawmakers have raised concerns that wealthier individuals could take advantage of the system, with the Freedom Caucus vowing to oppose "the growth of government disguised as free health care from D.C."
Key tribal issues to watch
Wyoming lawmakers are expected to review legislation that could impact Native American communities statewide.
One House bill would create a task force to study the Indian Child Welfare Act, a 1978 federal law facing challenges in the U.S. Supreme Court. The act requires welfare agencies to prioritize placing Native American children with relatives or with other members of tribal nations. Opponents argue the law unconstitutionally discriminates against non-Native adoptive or foster parents and violates states' autonomy to handle child welfare cases. Supporters argue overturning the act could threaten tribal sovereignty.
If the bill is passed, the established task force would review the federal measure, as well as Wyoming's and other states' welfare laws and other provisions impacting Native Americans. The bill also would require the group to develop legislative recommendations to solidify provisions in the federal law into state law by July 2024.
Another bill on the agenda would require Wyoming law enforcement agencies to assist local tribes with establishing a missing persons alert system if they so desire. The bill also directs the office of homeland security to help law enforcement agencies incorporate additional missing persons alert communications networks into existing alert systems to help boost search efforts.
In nation's suicide capital, a focus on mental health
Legislators are discussing a bill that would establish a 988 trust fund to provide sustainable funding for newly-expanded suicide prevention resources. Wyoming extended in-state suicide hotline coverage to 24/7 last summer with the launch of 988, the universal telephone number for the national suicide prevention and mental health crisis counseling. With the help of federal and COVID-19 relief funds, Wyoming shifted to around-the-clock, in-state call coverage. But with the $2.1 million in COVID-19 relief only temporary, stakeholders are looking for ways to permanently fund expanded suicide prevention services.
Also on the agenda is a measure to allow Wyoming to join two interstate mental health compacts, allowing Wyomingites to access telehealth counseling and psychological services from providers out-of-state.
Lawmakers ponder new legislation as abortion matters plays out in court
With the Wyoming Supreme Court declining to take up the challenge to the state's abortion ban for now, the matter is likely to be tied up in court for months as attorneys on both sides make their arguments. In the meantime, some lawmakers are eyeing even more restrictions.
The legislature already passed a measure in early 2022 which imposed criminal penalties for most abortion procedures, a law currently on-hold as courts determine whether it runs afoul of the state Constitution. But lawmakers including Sen. Tim Salazar (R-Riverton) and majority floor leader-elect Rep. Chip Neiman (R-Hulett) have discussed introducing even more restrictions, including harsher limits on abortion funding and a measure to make manufacturing and selling abortion drugs illegal.
Election reform a key priority
As has now become typical, lawmakers will again consider several provisions aimed at reforming the state's election procedures.
One measure would create a ranked-choice voting pilot program for nonpartisan municipal elections. Such a system allows voters to rank their preferred candidates in order of preference rather than choosing only one.
Other bills would close a loophole that enables federal political action committees to duck state reporting requirements and get rid of the so-called "ballot order effect" by randomizing the order partisan candidates' names appear when voters show up to the polls in general elections.
Sure to receive lots of scrutiny are measures to ban crossover voting, when voters switch parties to try to influence primary elections. Though the number of crossover voters had a limited impact on the GOP primary, lawmakers, including Rep. Jeremy Haroldson (R-Wheatland), have signaled their intent to ban the practice.
Legislature may take on culture war issues
Other legislation would address hot-button social issues.
One bill proposed by incoming Rep. Jeanette Ward (R-Casper) would prohibit librarians, teachers and others from disseminating any "obscene" materials. Wyoming law already prohibits the promotion of obscenity, but carves out an exception for employees of libraries, schools, colleges and museums who are engaged in bona fide activities related to their jobs. Ward's bill would remove the exception and, separately, expand the definition of child pornography.
State Sen. Wendy Schuler (R-Evanston) has said she intends to reintroduce a measure to restrict the teams on which transgender athletes in high school can compete. Her bill passed the Senate last year but was never introduced in the House.
Another bill Ward is sponsoring would bar businesses and other facilities that are open to the public from implementing or publicizing any kind of vaccine, masking or medical testing requirements. Ward's measure has drawn 17 co-sponsors.