LEGISLATIVE WATCH WYOMING: Lawmakers Advance Bill to Establish Trust Fund for Suicide Prevention Services, Opt to Not Allocate Money Right Away
Bill to fund 988 crisis services heads to the Senate for review
Published In: Politics
Last Updated:

Jan 26, 2021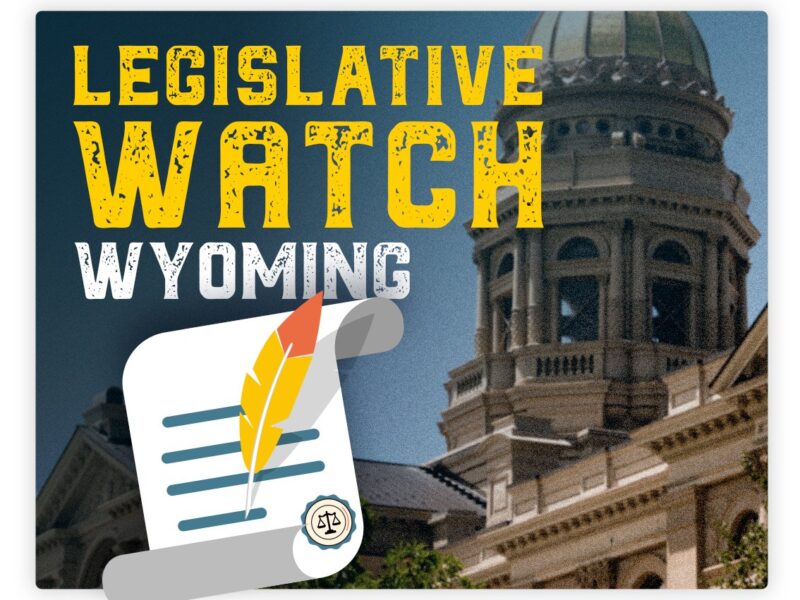 By Shen Wu Tan
Special to the Wyoming Truth
The House on Wednesday advanced a bill that establishes a trust fund to finance around-the-clock in-state suicide prevention services, but lawmakers opted to not put money into this account right away.
The legislation, House Bill 65 or "988 suicide prevention," passed the chamber with a vote of 38-23. One lawmaker, Rep. Sandy Newsome (R-Cody), was excused from the vote. As it stands, the bill would create a "permanent and perpetual" trust fund for 988, the mental health crisis hotline system that launched nationwide last year, amid calls from mental health advocates to find long-term funding for suicide prevention services.
Rep. Landon Brown (R-Cheyenne), who brought the proposed amendment to keep the trust fund intact but to not put money in it immediately, told his fellow legislators Wednesday, "We set it [the 988 trust fund] up and we say, 'We see value in this, and when we have some more money and if we can decide that after a couple of years this is good enough, maybe then we can dump $40 million in there.' Let's go ahead and show some good faith effort here."
The trust fund could collect money through federal grants, gifts, donations and other contributions, as outlined in the bill. Starting each fiscal year beginning July 1, 2024, earnings from the 988 trust fund would be appropriated to the Wyoming Department of Health, allowing it to spend 5% of the previous five-year average market value of the trust fund account. Until the trust fund has been in place for five years, its average market value would be the average market value for the years it has existed.
The original version of the bill allocated $40 million from the legislative stabilization reserve account to the 988 system trust fund account and $6 million for the trust fund reserve account.
However, while many lawmakers in the House took to the floor and discussed the need for suicide prevention services, they also voiced concerns about financing them, including setting up a trust fund. Lawmakers decided to remove the $46 million appropriations from the bill and also turned down a proposed amendment to allocate $4 million to a 988 system account.
Other lawmakers questioned whether establishing a trust fund is the best option for financing 988 services, including Rep. Tony Locke (R-Casper).
Locke, who voted no on House Bill 65, said, "This issue deserves our attention, of course, but I don't believe that the creation of this trust fund account is the right answer….I think we take this and keep a very close eye on it, and we work closely with all of the appropriate organizations to make sure we put the right solution in place and to make sure that the solutions we put in place are actually helping."
Wyoming's suicide rate and call centers 
Wyoming has ranked among the top states nationwide for its high suicide rates for years. In 2021, Wyoming saw 189 suicides, or 32.8 suicides per 100,000 individuals – the most reported since 2004 when the state health department began publishing data. The suicide rate for Wyoming is also more than double the nationwide rate of 13.5 suicides per 100,000 people. The 2021 suicide rate is up from the 30.6 rate recorded by the health department for 2020.
Once 988 launched in July, Wyoming obtained 24/7 in-state coverage of suicide calls with the assistance of federal grants. Wyoming LifeLine in Greybull and the Central Wyoming Counseling Center in Casper each received $60,000 in federal funding to expand their hotline services to 24-hour coverage seven days a week.
Federal funding allowed both call centers to add two more hours of coverage, Ralph Nieder-Westermann, executive director of Wyoming LifeLine, previously told the Wyoming Truth. Wyoming LifeLine now answers calls from 2 a.m. to 4 p.m.; the Central Wyoming Counseling Center takes calls from 4 p.m. to 2 a.m.
Last year, the Wyoming Department of Health approved proposals from the two call centers for the $2.1 million in COVID-19 relief funds allocated for expanded suicide prevention services, according to Matthew Petry, senior administrator for the department's behavioral health division.
But since those are one-time relief funds, stakeholders in the mental health field brainstormed ways to sustainably fund these scaled-up services. Two ideas emerged: one that would charge a 988 telephone fee and another that would establish a 988 trust fund. The Wyoming legislature turned down the telephone fee idea.
Wyoming was the only state without a suicide lifeline call center until 2020. The state legislature that year appropriated about $400,000 for two years to launch the state's first suicide call center, which operated limited hours. Before that, out-of-state suicide call centers picked up all calls from Wyoming.
House Bill 65 heads to the Senate for consideration.