LEGISLATIVE WATCH WYOMING: Legislature May Ban Mailers Like One Sent By Cheney Campaign
Bill would prohibit candidates, others from sending absentee request forms to voters unsolicited
Published In: Politics
Last Updated:

Jan 27, 2023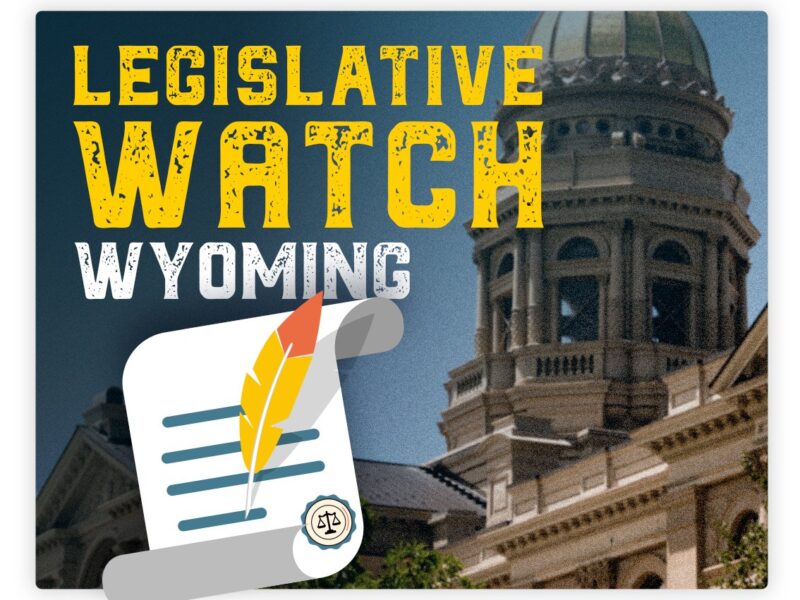 By CJ Baker
Special to the Wyoming Truth
A group of state lawmakers and Wyoming's new secretary of state are seeking to ban a tactic former U.S. Rep. Liz Cheney's campaign employed last year to promote absentee voting.
In early August, Cheney's campaign sent a mass mailing to Wyoming voters that encouraged them to request an absentee ballot, a type of ballot that can be delivered and returned by mail (or picked up and dropped off in person). The campaign mailing contained a copy of the standard form used to request absentee ballots, pre-addressed to the voter's county clerk and carrying the language, "OFFICIAL ELECTION DOCUMENT ENCLOSED."
Despite a disclosure on the mailing that it had been paid for by Cheney's campaign, some voters were confused about who sent the document. Others were angry, contacting county clerks and the Secretary of State's Office to complain.
Then-Secretary of State Ed Buchanan cautioned Cheney against using "official election" language, but concluded the mailing was legal. Senate File 131 would change that.
Sponsored by Sen. Lynn Hutchings (R-Cheyenne), the bill would make it a misdemeanor crime for candidates and others to distribute an absentee request form to a voter, unless the voter specifically asked for the form. Six other Republican lawmakers are co-sponsoring SF 131, and current Secretary of State Chuck Gray provided his full-throated support on Thursday.
In testimony to the Senate Corporations, Elections and Political Subdivisions Committee, Gray charged that "the confidence that many Wyomingites had in our elections statutes was damaged" by Cheney's "predatory" mailer and its use of official election language.
"It looked like an official mailing," Gray said later, adding that voters saw the mailer as "misleading, disingenuous and unlike anything Wyoming had seen in an election."
In emails Gray shared with the committee, one voter called the mailer "Unacceptable!" while another expressed fears of absentee ballots being sent en masse to "to those who didn't request them, hoping to get Cheney in office."
However, some committee members questioned if any harm had been done.
Sen. Bill Landen (R-Casper) said that "I've just never heard of anything nefarious on this front" and "it seemed like everything went just fine" with the 2022 election.
At multiple points in the hearing, Sen. Charlie Scott (R-Casper) asked variants of, "Why is it a problem?"
Gray — who briefly ran against Cheney in 2021 and came under fire for some of his campaign materials last year — said he "would never send anything like that" mailer.
"When you're impersonating … a public official it's really problematic," he said.
No unsolicited ballots
Jennifer Lowe of the Equality State Policy Center later agreed any impersonation of a public official or an official state document should be addressed.
"However, what some would claim to be 'predatory' I would call accommodating," Lowe said of the distributing absentee request forms, adding, "it's educating registered voters on the option that they have to participate in an election."
Platte County Clerk Malcolm Ervin noted Cheney's mailer only included an application for an absentee ballot. Voters had to accurately complete the form and deliver it to their county clerk in order to receive a ballot.
"… we would not send a ballot unsolicited," Ervin assured the committee.
He said some voters used the forms supplied by Cheney's campaign, but they represented only a fraction of the overall requests for absentee ballots. Cheney — whose campaign also encouraged Democrats to switch their political affiliation and vote in the Republican primary — ultimately lost in a landslide to now-U.S. Rep. Harriet Hageman.
While the bill would prevent anyone from distributing absentee ballot request forms unsolicited, clerks are proposing an amendment that would allow election officials to do so when needed.
Mary Lankford of the Wyoming County Clerks Association said outside efforts to boost absentee voting can confuse voters — such as if they've already received their ballot. Prohibiting candidates and campaigns from distributing the forms would "eliminate all of that confusion," Lankford said, and "eliminate some of that junk mail that you get at election time."
However, Sen. Eric Barlow (R-Gillette) suggested SF 131 might run afoul of free speech rights: "You can send out information to anybody about anything."
"I get a lot of unsolicited things from candidates and candidate committees that are soliciting money or all kinds of things," Barlow said. "… I understand there can be confusion. [But] I'm often confused during campaign season."
With time running short on Thursday morning, the corporations committee opted to continue their discussion of SF 131 on Tuesday.