LEGISLATIVE WATCH WYOMING: Measure Banning Chemical Abortions Clears Senate Committee
Another proposal would remove exceptions for cases of rape or incest
Published In: Politics
Last Updated:

Jan 26, 2023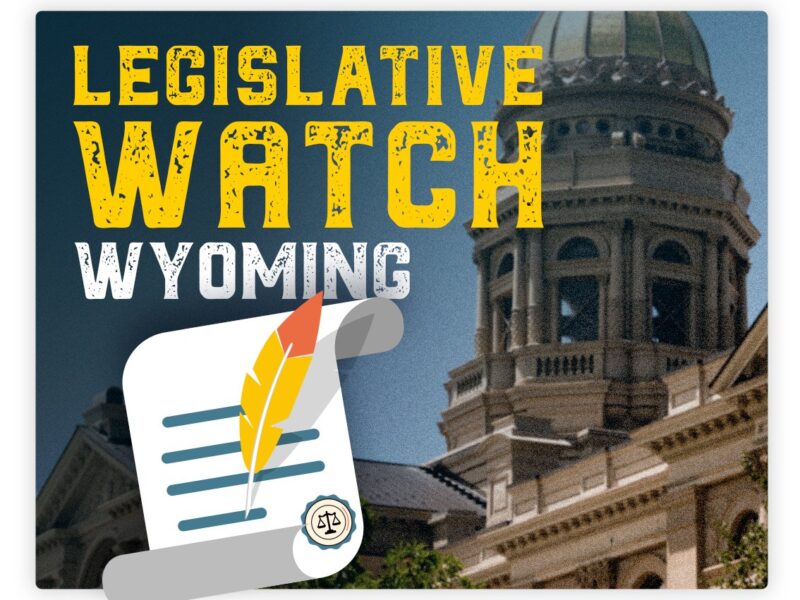 By Jacob Gardenswartz
Special to the Wyoming Truth
Lawmakers on the Wyoming Senate Labor, Health and Social Services Committee voted 4-1 on Wednesday to advance a measure banning abortion pills and other nonsurgical drugs used to end pregnancies, as Republicans in the legislature pursue multiple avenues to restrict access to abortion statewide.
Sponsored by Sen. Tim Salazar (R-Riverton), Senate File 109 would prohibit the sale, distribution, prescription or manufacture of any "chemical abortion drug," medications used to terminate unwanted pregnancies. During Wednesday's hearing, Salazar highlighted that the measure would not restrict birth control or other contraceptives used before a pregnancy can be confirmed.
"This bill does only one thing. It prevents the use of four drugs being used for the purpose, the sole purpose of performing an abortion," Salazar said.
Opponents to the measure, meanwhile, testified that such a proposal could have health implications far beyond the issue of abortion, and warned that implementing such restrictions would only push those requiring abortion care to more dangerous alternatives.
Wendy Volk, a Cheyenne resident who said she identified as a Republican, highlighted the story of Geraldine Santoro, who died as a result of a botched abortion in 1964.
"She died trying to terminate a dangerous pregnancy in the dark days before abortion was legal," Volk said. "She was one of countless women who died in this lonely and desperate way. We do not want to see those times ever return here in Wyoming or in the United States."
A "chilling effect" on maternal health
If passed, SF109 would not create any legal punishments for those who receive chemical abortion treatments, but would impose steep penalties on doctors and pharmacists who prescribe them, proposing up to six months of jail time and fines of up to $9,000.
Testifying before the committee, numerous doctors and maternal health experts warned that such a criminalization could have a chilling effect on women's health, arguing many of the drugs that would be banned are used for procedures other than pregnancy termination.
"We use them for inductions of labor, we use them for postpartum hemorrhage to save people from getting transfusions or surgeries," testified Dr. Rene Hinkel, an OB/GYN in Cheyenne.
"We use them every single day… So I would very much ask that you not make these drugs illegal, even with a caveat, because pharmacists are not going to give it to us, and it's going to affect the patients, the women of this state."
Some also argued such a policy would dissuade doctors from practicing in Wyoming for fear of possible prosecution, as the state is already facing high maternal mortality and a growing doctor shortage.
"I would like nothing more than to return to my home state and provide care for the women of Wyoming," said Dr. Lauren Millette, who received her medical degree as a part of the WWAMI program. "However, restrictive laws such as Senate File 109 — which would criminalize physicians such as myself for practicing within the accepted standard of medical care within the scope of our training — make it nearly impossible to do so."
The bill's supporters, in contrast, sought to emphasize concerns about the safety of abortion drugs, pointing to a 2009 study that found that women who received chemical abortions were four times likelier to require additional medical assistance than were those who received a surgical abortion. Still, that study's authors found that both surgical and chemical abortions were "generally safe."
Supporters also sought to frame the bill as necessary in order to promote Wyoming as a haven for those against abortion. "Wyoming could become a sanctuary state to the unborn," said Torrington resident Mara McManaman.
A debate on exceptions
Introducing the measure, Salazar pointed to the bill's exceptions allowing abortion pills to be used in cases of rape, incest or when carrying the pregnancy posed "imminent peril."
But advocates testified that such exceptions as written would impose an undue burden on victims to report an assault in order to receive treatment, while many may prefer not to involve law enforcement.
"A high number of sexual assault victims, they know their assailants, it's not the boogeyman jumping out of the bush," said Christina Gonzalez, a sexual assault nurse examiner who worked for years providing sexual assault exams to tribal members on the Wind River Reservation.
"This bill as written and presented infringes on my duties and responsibilities I owe the victims of sexual assault," Gonzalez testified.
Legal challenges — and more restrictions — on the horizon
If SF109 were to pass, it would likely face numerous challenges in court. Similar measures in West Virginia and North Carolina are already facing lawsuits from drug companies and abortion supporters, while the anti-abortion group Alliance Defending Freedom has sued the Food and Drug Administration seeking to strike down its approval of mifepristone, which can be used in concert with other drugs to induce pregnancy termination.
Wyoming lawmakers will soon consider another measure that seeks to circumvent court actions which have enabled abortion to remain legal in the state; a Teton County judge last year temporarily struck down a 2022 law banning abortion, arguing it ran afoul of the state Constitution. SF109, if passed, could see a similar fate.
That's why abortion opponents are pushing House Bill 152, which has yet to be reviewed in a public committee hearing. The measure would clarify that the legislature "may make declarations interpreting the Wyoming constitution" — an attempt to circumvent any judicial rulings that anti-abortion laws are unconstitutional. HB152 also would ban abortion with even fewer exceptions, eliminating current carve-outs for rape or incest.
Not to be outdone, Wyoming's few elected Democrats have proposed their own measure to codify abortion rights. House Bill 117 would make abortion legal in Wyoming up to the point of "viability," when a fetus can survive outside the womb, returning to the threshold set until Roe v Wade was overturned last year.
But with an overwhelmingly Republican and anti-abortion legislature, such a measure is unlikely to pass. And many Wyoming citizens have spoken publicly of their desire for their representatives act to further restrict abortion.
"The judge in Jackson Hole, who was holding up the decision to stop abortions in Wyoming— one person, one judge is holding up everything, you know, and I would like to see that addressed and dealt with," Casper resident Linda Lensert told the Wyoming Truth at a town hall for Rep. Harriet Hageman (R-Wyo.) last weekend.