LEGISLATIVE WATCH WYOMING: Momentum Builds for Crackdown on Crossover Voting
Committee advances bills that would restrict party switching
Published In: Politics
Last Updated:

Jan 31, 2023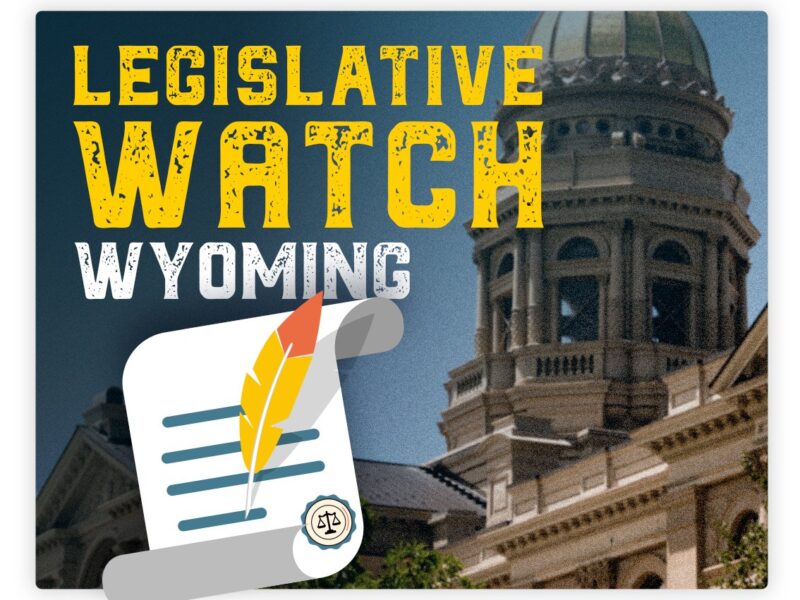 By CJ Baker
Special to the Wyoming Truth
For years, state Rep. Cyrus Western has heard the calls to crack down on so-called crossover voting in which voters change their political affiliation so they can participate in another party's primary election.
But for the Big Horn Republican, the issue took on new importance last year, as he began hearing that call not just from those involved in party politics but also from "average Joe conservatives."
"Quite a few said, 'This party switching thing, I think it's time we button this one up and we get it taken care of and we put it behind us,'" Western recounted at a Monday meeting of the House Corporations, Elections & Political Subdivisions Committee.
This could be the year the Legislature takes action. The corporations committee endorsed two bills on Monday that would restrict crossover voting, though not as tightly as proponents would like.
Wyoming has a closed primary system, in which Republican voters pick Republican candidates and Democrats pick Democratic candidates to appear on the general election ballot. With most candidates running as Republicans and the party dominating the state's politics, many races are effectively settled in the GOP primary. That prompts some Democrats and unaffiliated voters to join the Republican party ahead of the election. Last August, 94.4% of Wyoming's 182,232 voters were registered Republicans.
"There are still a lot of those people out there that are changing over because they want to be involved in the process," said Fremont County Clerk Julie Freese. "Once the primary election gets over, they don't feel like there's a lot of ways that they can participate."
Leaders and other members of the Wyoming Republican Party have taken exception to Democrats and non-Republicans participating in their primary; conservatives contend that crossover voting has led to the election of more moderate candidates. Secretary of State Chuck Gray charged that the practice "has undermined the sanctity of Wyoming's primary process," and said those who switch parties to support a particular candidate are "gaming the system."
Despite a lack of clear data on the effect of crossover voting, the issue drew significant attention following a contentious 2018 gubernatorial campaign. It came even more sharply into focus amid last year's Congressional race, as then-U.S. Rep. Liz Cheney openly encouraged Democrats to switch parties and support her in the Republican primary.
While past legislative efforts to restrict the practice were dismissed as unnecessary, "obviously we saw in the 2022 election this was an issue," said Rep. Jeremy Haroldson (R-Wheatland), "and this is an issue the people of Wyoming want us to address."
Haroldson was among two dozen lawmakers who signed on to legislation that would require voters to pick their political affiliation — and, in turn, their primary election ballot — before the candidate filing period opens, in mid-May of election years.
However, House corporations committee chair Rep. Jared Olsen (R-Cheyenne) questioned how that early deadline was "good for the voters, if they don't even know who's running for office." 
Changing date for party switches 
While endorsing Haroldson's legislation, House Bill 103, on a 7-1 vote, the committee moved the cutoff on party switches from mid-May (96 days ahead of the primary) to late June (45 days ahead of the election). The sponsor of the amendment, Rep. Steve Harshman (R-Casper), said the later date would allow the average voter to choose a party "when they're finally starting to pay attention" to the primary.
Another bill brought by Rep. Dan Zwonitzer (R-Cheyenne) would be significantly more lenient. HB 207 would only prohibit Democrats from becoming Republicans (or vice versa) in the 14 days ahead of the primary and wouldn't impact those changing from unaffiliated or minor parties. The committee voted 5-3 to advance that bill to the House floor as well.
Ahead of the committee's votes, Cheryl Aguiar of Thermopolis told members to stop party switches before the start of the filing period — or else she and others will continue their efforts to take the issue directly to voters as an initiative.
"We will hold the line on this," Aguiar said.
Gray said he could support setting the cutoff date as late as June 1 — shortly after partisan candidates file — but preferred mid-May, arguing a voter's political affiliation should transcend the candidates on the ballot. Several others spoke of the merits of voting for the person rather than the party and questioned the actual impact of crossover voters.
Marguerite Herman of the Wyoming League of Women Voters called the proposed restrictions "an unreasonable intrusion" and said they interfere with voters "without gaining anything in the process."
Gail Symons of Civics 307 said that perhaps 13,000 Democrats became Republicans in August's primary. It was a big increase from past years, "and yet … it didn't have an effect on the outcome," Symons noted.
Although Cheney lost in a landslide to now-Rep. Harriet Hageman, a perception remains that crossover voters have an impact and that the practice needs to be restricted.
"People have been asking for this for years, and you can like it or not and agree with reasoning or not but you can't deny that trust in our election is falling," Uinta County Republican Party Chairman Elisabeth "Biffy" Jackson said. "[HB 103] would help to repair that trust a little bit and prove to the people of Wyoming that we care about our election security, integrity and fairness."
Symons warned proponents to "be careful of what you ask for."
"You shut down party affiliation changes in the cycle, and I guarantee you that you just killed what's left of the Democrat party, because everybody who cares about who gets elected to any office is going to change to Republican and stay there," she said. "And so then all of the talk about platform and anything else will be beside the way."
HB 103 and HB 207 now face three readings in the House.