LEGISLATIVE WATCH WYOMING: New Abortion Restrictions Seek to Circumvent Ongoing Legal Challenges
Two measures further limiting access to abortion in Wyoming may be unconstitutional, abortion rights advocates say
Published In: Politics
Last Updated:

Mar 06, 2023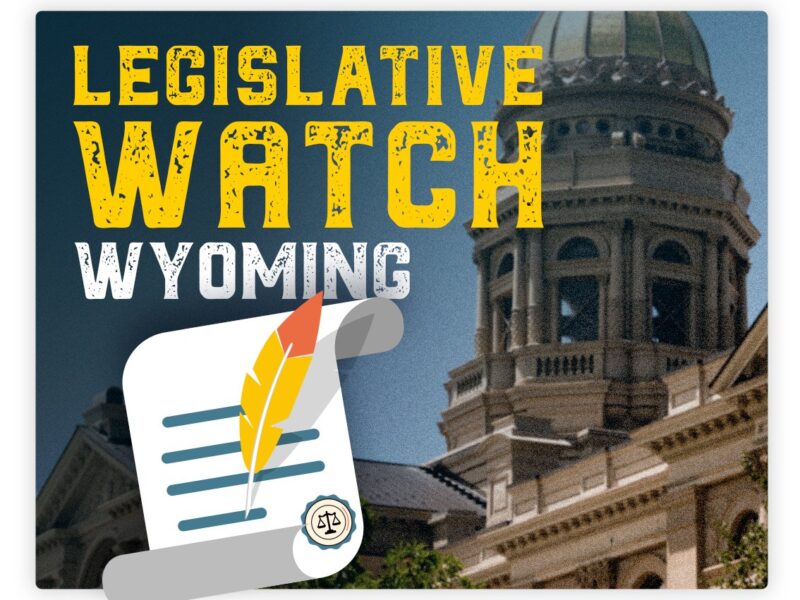 By Jacob Gardenswartz
Special to the Wyoming Truth
This story has been updated as of 9 a.m. MT.
On the penultimate day of the 2023 legislative general session, Wyoming lawmakers approved two new measures to further limit access to abortion in the latest development in the ongoing debate over reproductive care in the Equality State.
Senate File 109 criminalizes the prescription, sale or use of several medications to induce abortion. House Bill 152, the "Life is a Human Right Act," seeks to circumvent the court challenges to 2022's near-total abortion ban, which is currently enjoined from being enforced amid ongoing legal disputes.
Both measures have faced questions about constitutionality similar to those that halted last year's abortion ban, and they remain in legislative limbo until Gov. Mark Gordon signs them into law or decides to veto. If Gordon does not act on them by March 17 — when his 15-day window to evaluate measures passed towards the end of the legislative session expires — they'll become law.
Gordon has made no public announcements as to his future actions, but did say Friday that he's "not necessarily swayed by political pressure, and I'm not necessarily swayed by the challenges that can be there."
"I am not going to sign a bill that I perceive as being unconstitutional," Gordon added.
Michael Pearlman, Gordon's communication's director, declined to elaborate on the governor's intentions with respect to the abortion bills. In a statement to the Wyoming Truth, he said only that "The Governor has 15 days to take action on the bills you referenced and he will be considering them carefully, as he does all legislation that reaches his desk."
Advocates push for governor's veto, threaten legal action
Since the anti-abortion bills were passed late last week, abortion rights advocates have mounted a full-court press to persuade Gordon to veto the measures.
Julie Burkhard, founder of the Casper abortion clinic Wellspring Health Access and one of the parties challenging last year's abortion ban, called on Gordon to "veto these bills and protect Wyomingites' rights to privacy and freedom."
"The decision to have an abortion is personal, with no room for any legislative body," Burkhart wrote. "These bills will hurt people."
The ACLU of Wyoming sent a letter to Gordon urging him to veto the measures, which state advocacy director Antonio Serrano described as "deeply harmful to medical care for pregnant people in our state."
"If enacted, HB 152 and SF 109 will likely entrench Wyoming in a drawn out, costly legal battle," Serrano threatened.
Should Gordon sign the measures or otherwise enable them to become law, both are all-but-guaranteed to face court challenges — something even some anti-abortion advocates have noted.
In March 2022, lawmakers passed House Bill 92, which sought to make it illegal to provide most abortions in Wyoming and offered limited exceptions for cases of sexual assault, incest, or if the pregnancy could lead to severe illness or death for the expectant mother. The measure was structured as a so-called "trigger ban," enabling the law to kick into effect as soon as Roe v. Wade, the decades-old legal precedent providing a constitutional right to abortion care, was overturned.
When the U.S. Supreme Court did just that last June, the ban went into effect immediately, but was halted shortly after a coalition of abortion providers and state residents filed a lawsuit challenging the ban's constitutionality.
Central to the plaintiffs' legal arguments in that case is a provision in the Wyoming State Constitution guaranteeing adult residents "the right to make his or her own health care decisions." In a written opinion on the topic late last summer, Teton County District Court Judge Melissa Owens noted the plaintiffs could "likely succeed" in proving that the ban was unconstitutional.
"[T]he Wyoming Constitution affords all Wyoming citizens with a fundamental right to make their own health care decisions and that includes a Wyoming woman's right to make her own decision regarding abortion," Owens wrote.
To circumvent this, lawmakers' new anti-abortion bill specifically notes that "abortion as defined in this act is not health care."
"It is within the authority of the state of Wyoming to determine reasonable and necessary restrictions upon abortion, including its prohibition," the act states.
During a hearing pertaining to the previous abortion case, Owens was asked how potential new laws might impact the ongoing matter; she promised to "appropriately react with a status conference" should new abortion restrictions pass this legislative session.
"I am quite mindful, as all citizens are, that changes or modifications are being made particularly in regard to this case," Owens said.
Neither John Robinson nor Marci Bramlet, two attorneys representing the plaintiffs in that suit, responded to questions about how these new laws might impact their case. A three-day trial for that matter is set to begin Dec. 12, 2023.
Fate of medical abortions in limbo nationwide, too
Whether Gordon signs into law the new measure banning medical abortions, the practice could soon be greatly limited by the outcome of a different court battle in Texas.
Late last year, the conservative group Alliance Defending Freedom sued the Food and Drug Administration on behalf of several anti-abortion medical groups, seeking to strike-down the agency's decades-old approval of mifepristone, a drug commonly used in medical abortions.
Used in combination with misoprostol to terminate pregnancies up to 10 weeks, the two medications have been shown to work successfully about 99.6% of the time, with a 0.4% risk of major complications.
If Judge Matthew Kacsmaryk of the Northern District of Texas, the judge overseeing the case who was appointed by former President Donald Trump, rules for the plaintiffs and revokes the drug's approval, it would eliminate one of the most prevalent avenues to receiving abortion care in the U.S. It could also bring about lasting changes to how the FDA oversees approval of medications more broadly.
Last month, Wyoming Attorney General Bridget Hill signed onto an amicus curiae brief with 21 other Republican state attorneys general, arguing the FDA's decision on the drug was "deeply flawed." Kacsmaryk's ruling on the matter is expected this month and likely will be appealed regardless of the outcome.
As for the Wyoming medical abortion ban bill, lawmakers made a last-minute change on Tuesday, striking references to any specific drug in lieu of more general language banning the use of "chemical abortion" medications overall. Lawmakers in support of the policy, including Rep. Barry Crago (R-Buffalo), argued the change would prevent loopholes should the names of the drugs be changed.
Doctors and other abortion rights advocates had testified that many of the drugs set to be banned were used for purposes other than pregnancy termination.
"We use them for inductions of labor, we use them for postpartum hemorrhage to save people from getting transfusions or surgeries," Dr. Rene Hinkel, an OB/GYN in Cheyenne, testified.
"We use them every single day… So I would very much ask that you not make these drugs illegal, even with a caveat, because pharmacists are not going to give it to us, and it's going to affect the patients, the women of this state."