Legislative Watch Wyoming: Senate Committee Shelves New Restrictions for Sex Offenders
Attorney general's office said there'd been 'confusion' over current law
Published In: Politics
Last Updated:

Feb 14, 2023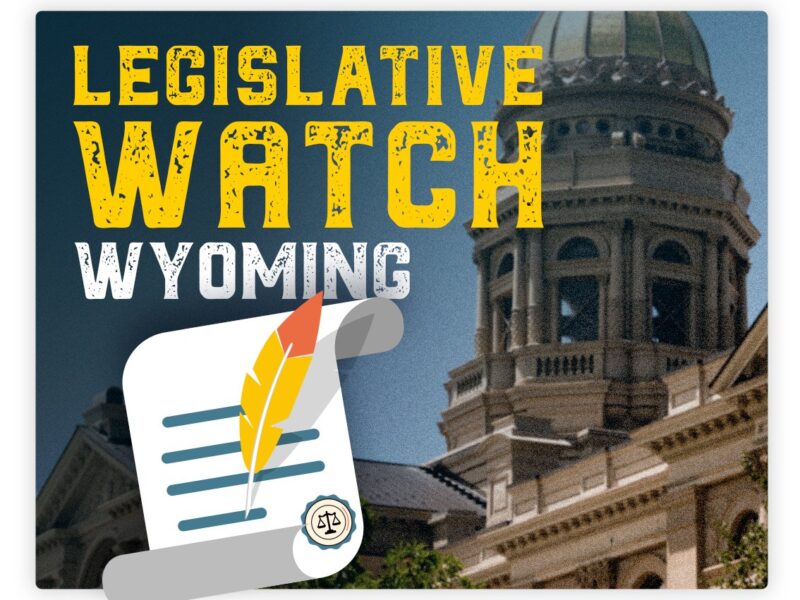 By CJ Baker
Special to the Wyoming Truth
A Senate committee rejected a bill on Monday that aimed to keep more sex offenders on the state's registry for a lifetime, saying the topic needs further study. While earlier debate centered on the effectiveness and fairness of the public registry, members of the Senate Judiciary Committee were more concerned about what, if anything, House Bill 90 would actually do.
The bill's sponsor, Rep. Chris Knapp (R-Gillette), wants to require those who've committed the most serious sex crimes to permanently remain on Wyoming's Sex Offender Registry "for the public to be aware of what dangers can be out here."
HB 90 passed the House overwhelmingly, with representatives saying they liked the idea of requiring lifetime registration for only the most heinous offenses. Lawmakers also amended the legislation so those who committed the crimes as juveniles could still petition a court to be removed from the list.
However, at Monday's committee meeting, Cara Chambers of the Wyoming Attorney General's Office explained that state law already requires a lifetime registration for most of the offenses targeted by the bill — and carves out an exception for juveniles.
"I think there's been some confusion," Chambers said, adding that Wyoming's three-tiered sex offender statutes are "convoluted."
Offenders in the less severe category — one that includes possession of child pornography and juveniles who committed the most severe crimes — can petition a judge to be removed from the registry after 10 years with a clean record. Those in the moderately severe tier — one that includes several forms of child molestation — can seek to end their registration after 25 years.
However, adults who commit the most serious offenses — such as forcible rape and incest — "can never be removed from the registry," Chambers said. So HB 90's proposal to require a lifetime registration for crimes like forcible rape and incest was superfluous, especially after the House retained the exception for juvenile offenders. Meanwhile, Chambers said the legislation contained a loophole for some sex offenders who moved to Wyoming from other states.
"I guess I'm not sure what this bill does to fix the system that we have now," Sen. Ed Cooper (R-Ten Sleep) said at one point.
"To be honest with you, I'm not sure, either," said Terry Armitage of the Wyoming Association of Sheriffs and Chiefs of Police, a supporter of the bill.
The committee later voted 4-1 to reject HB 90, but Chairman Sen. Bill Landen (R-Casper) said the panel would study the topic over the summer.
"We want to get this right," Landen said, telling Knapp that, "you're onto something and we will stay on it."
Although research shows that sex offenders generally reoffend at a lower rate than other types of criminals, the rate is still high, with roughly one out of four being caught committing a new sex crime within 15 years. Cooper said a 25% recidivism rate means "75% of them don't repeat," but Chambers called it "substantial."
"These are offenders who don't necessarily age out of their crime. They're a tricky lot," she said.
"And these offenses do … have devastating effects on their victims," added Chambers, who serves as the director of the Wyoming Division of Victim Services. "So I absolutely understand wanting to tighten up the registry to make sure there are safeguards."
Knapp spoke to the harmful impact of sex crimes at the outset of his remarks. He said he brought the bill at the request of a constituent who lost a loved one to suicide following a sexual assault that involved another family member.
Going forward, committee members said they'd like more data about sex offender recidivism in Wyoming. Sen. Cale Case (R-Lander) said he wants to know whether offenders who've gotten court permission to end their registration have gone on to commit new crimes; he was reluctant to tighten the law without knowing how the system is working, comparing the registry to a scarlet letter.
"It's necessary — I'm not questioning its necessity," Case said, "but it's not a benign thing."
Landen expressed hope that the committee would have a bill "in slam dunk form" for the 2024 Budget Session.