LEGISLATIVE WATCH WYOMING: State to Issue Digital Dollar as Part of Crypto Push (Part 1)
Governor expresses reservations about planned 'Wyoming stable token'
Published In: Politics
Last Updated:

Mar 20, 2023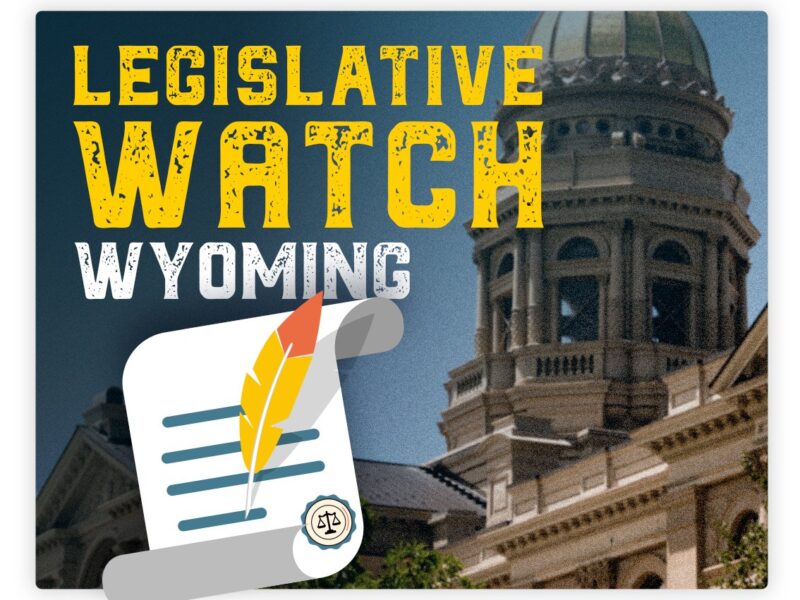 By C.J. Baker
Special to the Wyoming Truth
Having strived for years to be a leader in the world of cryptocurrencies and digital assets, Wyoming is now preparing to take its boldest action yet: issuing its own digital version of a dollar bill.
On Friday, Gov. Mark Gordon cleared the way for Wyoming to create a new "stable token," with the aim of facilitating faster, cheaper and more secure financial transactions with blockchain technology. But the governor also expressed reservations and skepticism, declining to sign the legislation that authorizes the new token.
"There remains in the legislature and elsewhere a compelling enthusiasm to see a novel Wyoming stable coin set sail," Gordon wrote of Senate File 127. "I fear, though, that less thought was given to the detailed implementation of such a program perhaps than to the imagined prospects of success."
He also wondered whether the idea is constitutional, how many people or businesses will actually want to use the state's new asset and what might happen to Wyoming's reputation if the project fails.
Still, "the idea is intriguing enough" to be explored further, Gordon wrote, particularly because it could provide "significant revenue" to if the token catches on. Supporters say the project could potentially yield hundreds of millions of dollars a year for Wyoming.
"It's kind of scary, but I firmly believe if your dreams aren't big enough to scare the hell out of you, they're not big enough," Sen. Ed Cooper (R-Ten Sleep) said during a committee discussion on the bill in January. "So we got to reach, we've got to be first. We've got to step out of the 'what if' mode and [say], 'What if we succeed?'"
Bringing stability to an unstable market 
In an effort to entice crypto companies to set up shop in Wyoming, lawmakers have passed multiple pieces of crypto-friendly legislation in recent years and say the new token is the logical next step.
Stablecoins (or tokens) are meant to address one of the most infamous features of cryptocurrencies: volatility. The price of one bitcoin, for instance, ranged from less than $20,000 to over $28,000 in just the past week-and-a-half. And those swings in price make it challenging to use crypto for everyday financial transactions.
"If you're investing, you're OK with volatility. If you're selling coffee, you don't want volatility," said Sen. Chris Rothfuss (D-Laramie), co-chair of the state's Select Committee on Blockchain, Financial Technology and Digital Innovation Technology.
The State of Wyoming is far from the first to see the need for a digital asset pegged to the U.S. dollar or another government currency. A slew of private companies have already created and issued various stablecoins; some $134.5 billion worth were in circulation on blockchains on Saturday, according to data compiled by CoinGecko.
However, Rothfuss and other blockchain backers say existing stablecoins — including market leaders Tether (USDT) and USD Coin (USDC) — aren't transparent enough about what real world assets are backing their digital dollars. Tether has long been dogged by questions about its reserves and it previously backed some of its $1 coins with potentially risky debt instruments. And although it's now back at $1, USDC traded for as little as 88 cents this month after its issuer revealed $3.3 billion of the cash backing the coin had been held at the now-collapsed Silicon Valley Bank.
"None of those assets are trustworthy," Rothfuss said in February, prior to USDC losing its dollar peg.
John Bugnacki of Tacen, a Cheyenne-based company that's working to launch a new type of cryptocurrency exchange, ticked off a list of failed crypto ventures as he addressed House minerals committee members last month: FTX, Voyager Digital and the Celsius Network. In the wake of various frauds and problems, "there's really a huge desire within the marketplace for increased trust," Bugnacki said, arguing  Wyoming's stable token could deliver that confidence.
A more stable stablecoin
As envisioned by the backers of SF 127, an individual or business will be able to pay a dollar (plus a small fee) in exchange for a digital token that represents a dollar. While the tokens are being used on a blockchain, the state will hold the dollars in a transparent, publicly audited trust. The cash will then be invested in short-term treasury bills, which are low-risk and relatively liquid. As a result, holders of Wyoming's stable token should have no trouble exchanging their tokens for cash.
"When they want the dollar back, the dollar's there," Rothfuss said.
Meanwhile, the state will collect all the interest earned from the treasury bills. And if the token sees widespread use, and if interest rates remain high, the returns could be significant.
For instance, issuing $500 million worth of tokens over the course of a year— less than a half-a-percent of the current stablecoin market — could generate some $23 million in revenue for the state at the current rates for three-month T-bills. The Cheyenne-based American CryptoFed DAO has been more optimistic, suggesting the state could perhaps earn $9.3 billion annually if the token is adopted by major merchants.
Stablecoins are often used by traders seeking big gains, including to purchase cryptocurrencies and for use in decentralized finance (DeFi) applications. In presenting SF 127, however, Rothfuss focused on the token's potential utility in facilitating real-world transactions — even suggesting the state could accept the token for tax payments.
Payment processors charge upwards of 3%, while some blockchain transactions cost mere cents, Rothfuss said. And instead of taking days to finalize a transaction, he said those on a blockchain can be settled nearly instantaneously and securely. Whether businesses will see it that way remains an open question.
Lawmakers hope the state will issue its first tokens by the end of the year. But Gordon didn't commit to that timeline, indicating that he believes there's a lot of work ahead.
Check back tomorrow for part two about the hurdles facing the project.