New Rooms With a View in Yellowstone
National park making steady progress on employee housing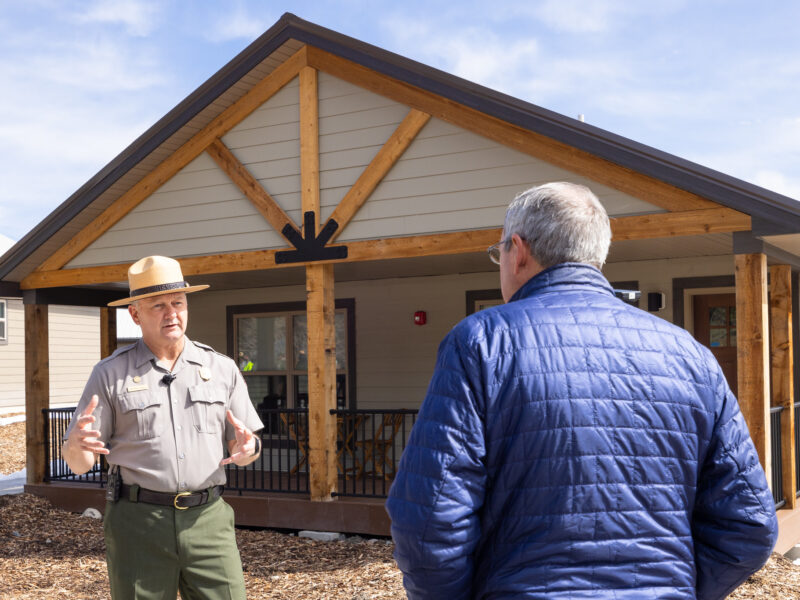 Yellowstone National Park Superintendent Cam Sholly discusses one of several new modular housing units that are replacing substandard employee housing in the park. (Courtesy photo from National Park Service)
By Ruffin Prevost
Special to the Wyoming Truth
CODY, Wyo. — When Bob Richard worked as a mounted ranger in Yellowstone National Park in the 1950s, he lived in a two-room cabin with no electricity and no running water. He used an outhouse and had a wood stove for heating and cooking.
"I got water out of the stream nearby. I had a sump pit that I dumped my dishwater in when I was through with it, and the bears came by quite often and stirred that up," Richard, 86, recalled of his rustic housing at Yellowstone Lake.
"When I got married and showed my wife our honeymoon cabin, she sat on the bed and cried," he said. "But I was young, and I loved it."
Richard spent three summers in that cabin while working as a seasonal ranger in the developed areas around the Lake District. Employee housing in the park has come a long way since then, and park officials acknowledge that it still has a way to go.
But Superintendent Cam Sholly "has made it a priority to improve the housing, and he is doing a really good job of that," said Richard, who has worked for many years as a tour guide in Yellowstone and has served previously as president of the Cody Country Chamber of Commerce.
Since 2019, Yellowstone has invested $30.1 million on modular housing units and site development to replace 64 trailers that were built and installed at locations around the park between 1960-1983. Those trailers, also known as mobile homes or single-wides, have typically housed approximately 90 employees annually, most working as seasonal employees.
"The condition of our housing in many ways was just completely unacceptable," Sholly said.
Yellowstone works to recruit "the best of the best," he said, and substandard housing has sometimes made it more difficult to attract top talent.
Housing crunch
About half of Yellowstone's 800 employees live in park housing, many in highly remote areas. Of those who live in nearby gateway communities, many bought housing decades ago and will be retiring over the next few years. Skyrocketing housing prices in recent years will likely put those homes out of reach for incoming employees.
This has created a housing crunch for park managers, a problem exacerbated by short-term vacation rentals in Montana gateway towns like Gardiner and West Yellowstone driving up prices and limiting the supply of homes available for long-term tenants or homebuyers.
Making matters worse, building in Yellowstone is costly and difficult, Sholly said. Construction season runs from May to November, at best, and building materials are expensive and tough to source nearby. The solution has been modular housing built elsewhere and installed on-site in just a few weeks.
Sholly said when he started at Yellowstone in 2018, an existing housing plan called for constructing dozens of new, conventionally built structures over 10 years to replace 64 trailers at a cost that was "pretty astronomical."
"So we started looking at options that were equal in quality, or higher, and that were faster and cheaper," he said. Advances in modular construction over the last decade mean the park will save $30 million compared to the conventional housing plan, and will install the 64 replacement units in far less time.
Perhaps best of all, the modular homes are a hit with employees.
"The new housing was wonderful," said Ramon Perez, in a statement provided by the park's public affairs office. Perez is a biological science technician who lived in a modular unit in Mammoth Hot Springs this summer with his partner, who works for the park's bison management program.
"It was clean, spacious, comfortable, and well-furnished," said Perez, who had lived since 2015 in older housing at Mammoth. "It felt like we were on vacation."
Sholly said the park surveyed seasonal employees to find out what they wanted in new housing, and that top responses included a larger porch, separate bathrooms for each bedroom and a washer-dryer in each unit. The new houses — which Sholly characterized as functional and comfortable, but not luxurious — address those employee priorities.
Transported from Minnesota
Built in a factory in Minnesota, the houses are trucked to Yellowstone in two sections and assembled at prepared sites in the park. They typically are located adjacent to or near existing trailer sites, which are then reclaimed and restored after demolition.
Since 2019, dozens of modular homes have been installed at Mammoth Hot Springs, Old Faithful, Lake Village and even Bechler, the most remote developed area, located in the southwestern corner of Yellowstone and accessible via a rough road over 20 miles from Ashton, Idaho.
Replacing trailers with modular units is part of a four-point plan to address housing needs in the park. These include upgrading existing non-trailer and non-historic housing; rehabilitating deteriorating historic homes; and adding new housing capacity inside the park and contracting for additional housing in gateway communities.
The Park Service has spent $16.5 million since 2019 to renovate 155 existing non-trailer, non-historic housing units. It has received $22 million through the Great American Outdoors Act Legacy Restoration Fund to restore Fort Yellowstone, a National Historic Landmark that includes 34 structures in Mammoth built in the 1880s and 1890s. Many of those buildings are used as employee housing and office space. Another $21 million has been earmarked to rehabilitate the historic Laurel Dorm near the Old Faithful Inn.
Sholly said the new modular housing has been "fantastic," and the park has made good progress on "making improvements on the existing housing inventory that we have in the park. That was really a major priority for us."
Some landlords in places like Gardiner and West Yellowstone have also started to realize the upside of having Park Service employees as steady, dependable tenants instead of the volatility that comes from operating short-term rentals.
But Sholly said employee housing will always be a challenge in a place like Yellowstone, where "some of these employees have to live in housing in the [park's] interior during the winter, and they're snowmobiling an hour and a half each way for groceries."
"It's a great, fantastic park," he said. "But it's a challenging place to work and live."