State Sees Highest Highway Fatality Count Since 2019
Officials report 15 more deaths on Wyoming's roads compared to this time last year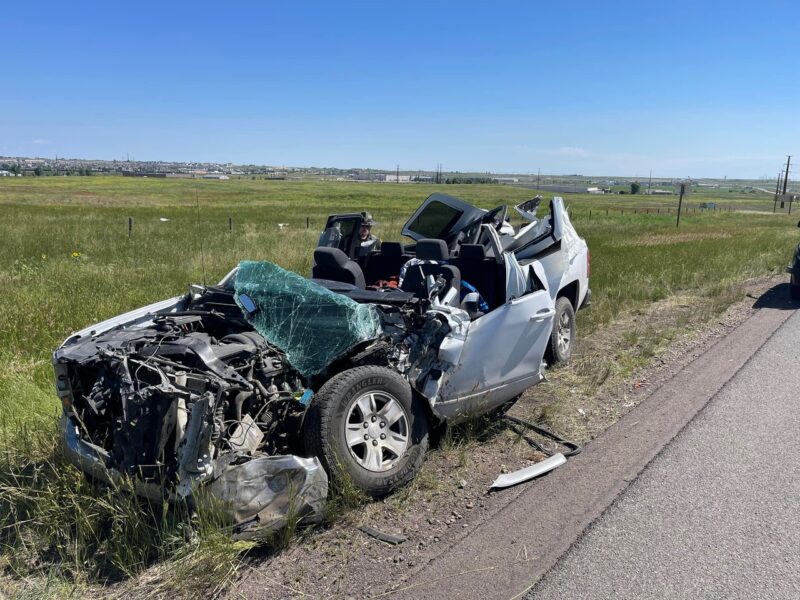 In a year that has seen an increased number of highway fatalities, the Wyoming Highway Patrol urges both visitors and residents of the state to avoid getting behind the wheel if they are under the influence, tired or otherwise distracted. (Courtesy photo from the Wyoming Highway Patrol)
By Melissa Thomasma
Special to the Wyoming Truth
As the end of August approaches, a total of 76 crashes on Wyoming's highways have claimed 93 lives — a significant increase over past years' fatalities in the same time period. In a continuation of a trend observed since February, more motorists have experienced collisions, injuries and death.
As of Tuesday, the death toll on the state's roads was higher than the numbers in recent years —78 in 2022 and 72 in 2021 — according to the Wyoming Highway Patrol. This year's fatalities are the highest since 2019, a year that counted 106 deaths by August 22.
A recent study by the AAA Foundation for Traffic Safety found that up to 21% of fatal vehicle crashes each year in the United States are caused by drowsy driving. According to the highway patrol, driver inattention or fatigue may be the cause of one of the recent fatalities on Wyoming's roadways near Douglas.
On the afternoon of August 14, a collision occurred around milepost 131 on Interstate 25 near Douglas. A Chevrolet Silverado 1500 pickup with a livestock trailer was disabled and parked in the right emergency lane, and a Dodge 3500 pickup — also with a livestock trailer — was northbound on Interstate 25 when it struck the Chevrolet, the highway patrol reported. The driver of the Chevy, Brooke Howard, 25, of Burns, succumbed to her injuries at the scene.
Howard marked the state's 89th highway fatality. The same day, August 14, Wyoming motorcyclist Paul Washburn, 41, lost his life near Laramie. Two days later, Colorado motorcyclist Heather Cailaoife, 50, died in a head-on collision with a pickup truck near Lusk. The most recent crash victim was Michigan driver Loren Brisco, 54, who died when his semi-tractor trailer rolled while navigating an interstate exit near Green River.
State Trooper Shawncey Day, public information officer for District 2 and a six-year veteran of the highway patrol, acknowledged that 2023 has been a "hectic year" so far, especially with the volume of tourists on the state's roadways — many of whom had postponed vacations during the COVID-19 pandemic and opted for a remote work lifestyle.
"Just the previous week, I encountered an individual that made a van into a mobile apartment," Day told the Wyoming Truth. "It was very impressive, and the driver told me how they would travel to a national park and work remotely for a week. The next week, they would travel to another national park."
Day recognizes that the state's scenery and distance from the bustle of modern life draw visitors from all corners of the globe. But that remoteness doesn't come without potential roadway dangers—and consequences.
"Compared to other states, [roadside] service and help can be a long way away," he said, emphasizing that preparedness can make all the difference in an emergency. "Before you go, check that your vehicle is in proper working condition. Things that I always keep with me are a cell phone charger, first aid kit, flashlight, work gloves, basic repair tools, an emergency blanket, a few snacks for other drivers stuck that ran [around] a 'road closed' gate, and of course, water."
Though summer tourism is beginning to wane, Day also reminded drivers that icy and wintry conditions are on the horizon, which increases the potential for more serious accidents and the count of highway fatalities to continue to climb.