University of Wyoming Football Team Kicks Off Season in Illinois
Transfers and new players complicate predictions for team
Pictured above is Jonah Field at War Memorial Stadium, home of the University of Wyoming Cowboys football team. (Courtesy photo from University of Wyoming Athletics)
By Kaycee Clark-Mellott
Special to the Wyoming Truth
LARAMIE, Wyo.—For the University of Wyoming Cowboys, the 2021 season fell short of their great expectations.
The team started out on a roll with four straight wins and headed into conference play undefeated. But then the Cowboys suffered four straight losses to their Mountain West opponents. From there, the team traded wins and losses each of their last four games to finish the season with a 6-6 record.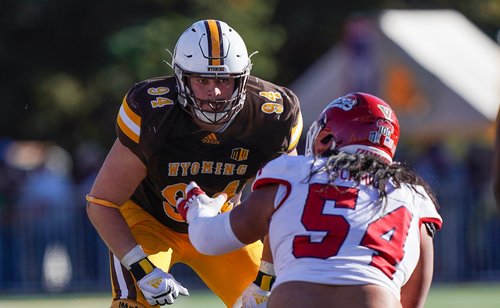 At the Famous Idaho Potato Bowl in Boise, Idaho, they ended the post season on a high note, beating Kent State 52-38.
But then, things took a turn for the worse. Over the next 48 hours, six players announced they would be entering the transfer portal: quarterbacks Levi Williams and Sean Chambers, wide receiver Isaiah Neyor, safeties Rome Weber and Cameron Murray and defensive end Victor Jones.
By the end of the off season, 15 players had transferred, including Xazavian Valladay, who ranks second in career rushing yards for the Cowboys.
"They were outstanding players, they played a lot of games and I think [the team] will feel that loss just because of their experience," said Kevin McKinney, color commentator for the Cowboys radio broadcasts since 1996. "Obviously Neyor and Valladay, Neyor was a huge loss, and you didn't want to see Valladay go either, he was a heck of a running back, but we have people at running back that can fill that gap."
A season of mysteries and unknowns
On Saturday, the Cowboys begin their season in Illinois and take on their first Big 10 opponent since 2017. There are many unknowns about the team. No quarterback has taken a snap under center for the Brown and Gold. The wide receivers lack experience, and there are several new faces on defense.
As for starters, that's something of a mystery, too. There weren't many known quantities during spring practice and fall training camp, and competition for those spots persisted.
"You have all those guys in the past returning back, you kind of know who your depth chart is," Head Coach Craig Bohl said in a press conference after practice on March 30. "That's not the case right now, so it'll be fun to see this group compete and see how far we can go this next year."
Even though players are still competing for starting jobs, many are optimistic about the season and appreciate the team dynamic.
"The bond we have together stands out, everybody is just loving and caring, I can tell, on the field and off," said Jakorey Hawkins, a 22-year-old junior and transfer cornerback. "We hold each other accountable to be the best we can every day."
Hawkins transferred to UW from the University of Mississippi in the off-season, hoping to maximize his skill and chance of making it to the National Football League.
Members of the Mountain West media don't see the Cowboys faring well this season. UW is projected to finish second to last in the Mountain division and had no players named to the preseason All-Conference team.
The team believes otherwise. Many players pointed out that since there isn't film on this set of UW players, the Mountain West media doesn't know what they can do.
"They're [younger players] going to prove everyone wrong, everyone that hasn't heard of these people," said Cole Godbout, 22, veteran nose tackle and redshirt junior. "People are just writing them off, and they're just going to come out and show [off] on game day."
Godbout, of Hudson, Wis., was named to the All-Mountain West Second Team by Pro Football Focus and led the team in sacks with five last season.
One of the most impactful returning players is running back Titus Swen, 21, of Fort Worth, Texas. Last season, he set the UW record for the longest rushing touchdown when he ran for 98 yards in a blowout victory over Utah State.
"I feel like we're ahead from when we were last year," Swen said. "So, I feel like that's a big improvement, I feel like team chemistry is really getting connected."
Kickoff in Champaign, Ill. is at 2 p.m. MST. The game will be broadcast on the Big Ten Network for television and through the Cowboy Sports Network and its 25 affiliate stations for radio.