WOMEN YOU SHOULD KNOW IN WYOMING: Co-Founder of Nonprofit Helps Cowboys and Cowgirls Struggling with Mental Health Issues
Faith in God inspires Sheryl Foland: "He always has a plan."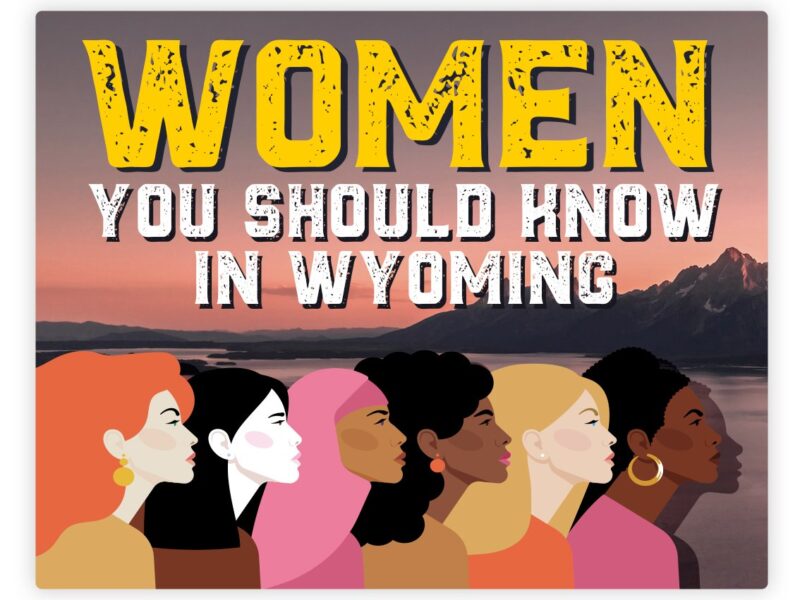 By Shen Wu Tan
Special to the Wyoming Truth
In cowboy culture, stoicism rules the day—even in the face of personal challenges. But a Wyoming social worker is determined to change that mindset in the suicide capital of the United States.
Sheryl Foland, a licensed clinical social worker in Rawlins, is a mental health advisor for No More Empty Saddles, a nonprofit that provides mental health support and suicide-prevention education for struggling cowboys and cowgirls. By listening without judgment, Foland believes she is helping to break down the stigma around mental health that prevents many Wyomingites in the ranching, agriculture and rodeo communities from seeking the help they need. 
"Mental health and substance use are not moral failures," Foland said. "Mental health is a brain problem. The challenge is, I can't see when it's not working properly other than through behaviors…. Behaviors are what help us identify mental health issues, and sometimes it's too late because people are still afraid to come out and say, 'I have a problem.'"
In 2021, Wyoming saw 189 suicides, or 32.8 suicides per 100,000 individuals — the most reported since 2004 when the state health department began publishing data. The suicide rate for Wyoming is also more than double the nationwide rate of 13.5 suicides per 100,000 people.
Foland knows firsthand what it is like to lose a loved one wrestling with mental health issues. Her younger brother, Donald DeWoody, died from what she called "long-term suicide" — alcohol abuse that resulted in cirrhosis, a late-stage liver disease — in 2015. He was 53 years old, an age Foland described as "too young."
"My brother had untreated mental health issues for the majority of his adult life, and instead of reaching out for help, he self-medicated as many people do," Foland told the Wyoming Truth, choking back tears. "And he is one of the reasons that I decided to pursue a career in addictions and mental health because I knew there had to be a better way to treat people like my brother…. And there had to be a better way to break through the stigma of mental health."
Foland, 60, shifted from a career in business quality management to social work after the 9/11 terrorist attacks. She earned undergraduate degrees in psychology and criminal justice from Wichita State University in 2003 and a master's degree in clinical social work from New Mexico Highland University in 2012.
Over the years, Foland has worn many different hats in the field, from implementing treatment in lieu of incarceration for specific individuals in the criminal justice system to drug and alcohol abuse prevention programs. Today, she maintains a private counseling practice in Rawlins.
The origins of No More Empty Saddles
Foland found her way to No More Empty Saddles through rodeo photography, a hobby she took up to escape work pressures in the wake of her brother's death.
In August 2021, Foland attended the Tom Horn Days rodeo in Bosler. About two months later, a rodeo board member informed her that one of the young riders, Jonn Beer from Montana, had died from fentanyl poisoning.
In November 2021, Rand Selle, owner of Selle Rodeo Productions and host of Tom Horn Days Cowboy Rendezvous, launched No More Empty Saddles with the help of Foland and another volunteer. Part of its mission is to provide pickup men and women for cowboys or cowgirls who are experiencing challenges, playing off a term for a person on horseback who assists rodeo riders. To commemorate Beer, a rider on the last bucking bronc — the last one Beer rode — spread his ashes at the 3rd Annual Tom Horn Days rodeo last August.
So far, No More Empty Saddles has assisted 51 people, including 18 Wyoming residents. One of them was a barrel racer, who reached out to Foland shortly after the nonprofit's Facebook page went live.
The woman had sustained an injury while racing that destroyed her rodeo dreams; she told Foland that she felt like a disappointment to her family. Foland referred her to local mental health resources, and just before Christmas, Foland learned that the woman is now engaged and attending school.
"She had an undiagnosed mental health issue," Foland said about the barrel racer. "So, she was able to get all of those things addressed. And now, she's in a wonderful place."
Brenda Bowen, a volunteer secretary for No More Empty Saddles, praised Foland's ability to make quick connections with people in need.
"She [Foland] can sense and knows what questions to ask to draw out whatever happens to be bothering you, whether it was a bad day at work or struggles in a relationship or whatever it might be….," Bowen said. "It's professional advice [she gives], but you feel like you're talking to a close friend and confidant."
When someone contacts the group for support, Foland conducts a brief crisis assessment and then connects the individual with the right local resources, such as licensed providers. She also follows up to see how the person is doing.
Beyond No More Empty Saddles, Foland's community service includes the Wyoming Association of Addiction Professionals, the Behavioral Health Advisory Council and the pastoral council for St. Joseph's Catholic Church. In 2018, she won the Wyoming Counseling Association Human Rights Award and a Wyoming Chapter of the National Association of Social Workers Award.
"I'm just very blessed that God put me in a place where I needed to be," said Foland, a Kansas native who moved to Wyoming in 2013 when her husband secured a job with an oil refinery in Evanston. "And most everyone knows that I am not a Wyomingite by birth. I'm still accepted, fortunately. They have included me into this very close-knit community, which I'm very blessed."
It's her faith in God that inspires her to give back to her fellow Wyomingites, whether that's connecting a divorced mom with an abusive partner to resources or helping families reunite with loved ones who sought much-needed mental health treatment.
"He [God] always has a plan," Foland said. "I may not like what I'm going through or what others I care about are going through, but I know there are good reasons."