WOMEN YOU SHOULD KNOW IN WYOMING: Former Sheridan Lawmaker Connects Women to Leadership Opportunities
Rosie Berger honored for service as 'the conduit between good people and good ideas'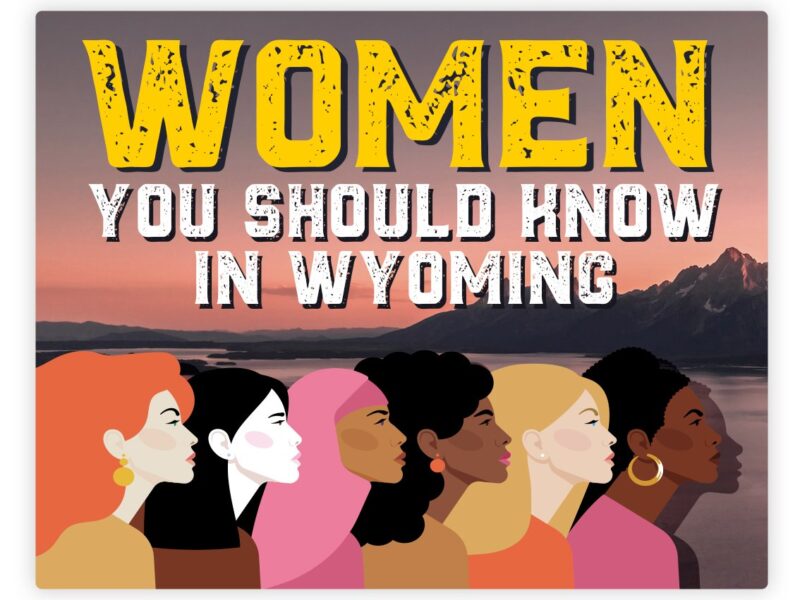 By Erin Banks Rusby
Special to the Wyoming Truth
Rosie Berger believes in the power of connection. She wants to meet people and learn about them so she can introduce them to folks in her network—a win-win for both parties.
It's a philosophy that led to Berger's success as a businesswoman and politician. In February, the Wyoming Council for Women recognized Berger, 68, with the Governor's Woman of Distinction Award for her public service and efforts to prepare women for leadership positions.
"I've always believed that when you have women at the table helping make policy and creating good decisions for their children and families that we're all much more successful," said Berger, who represented Sheridan in the Wyoming Legislature from 2003 to 2017.
Berger, a Republican, thrived in her legislative roles. She chaired the appropriations committee, which sets the budget; served as the first female majority floor leader of the Wyoming House of Representatives; and co-founded the Wyoming Women's Legislative Caucus.
"My background was in business administration, so I loved how we could work to preserve the legislative institution and to make it stronger and more vibrant, more accessible to our citizens," Berger said.
Erin Taylor, associate director of the Wyoming Association of Community College Trustees, admires Berger's "quiet collaboration."
"Rosie was instrumental in so many ways for some big things to move through the legislature," Taylor said. "However, she never required any of the credit." 
Rooted in collaboration, community
Berger traces her leadership style to her upbringing on a Wisconsin dairy farm. The eldest of seven siblings, she woke up every day at 4 a.m. and completed chores before school. During summer, the family grew a large garden with the goal of harvesting the majority of their winter vegetables. Berger divvied up the responsibilities, like weeding the strawberry patch, and kept her siblings on task. Along the way, she learned to be diplomatic in working toward common goals.
"I can lead with an idea, but this energy of working with others to make a better idea and find a better solution, I really think that came from my childhood," Berger said.
Berger attended the University of Wisconsin for three years before leaving to become a certified travel agent. While climbing Electric Peak in Yellowstone National Park, she delighted in the West's wild beauty and decided to make it her home. After stints in Denver and Gillette, Berger joined Brittain World Travel in Sheridan and eventually bought the business with two partners.
Working as a young businesswoman in a small community ignited Berger's passion for economic development.
"I fell in love with Wyoming, and I realized I wanted to preserve the opportunities and increase those opportunities for future generations," she said. In 2002, as Berger was poised to graduate from Leadership Wyoming, Rep. Bruce Burns, Jr. (R-Sheridan) announced he would seek a seat in the state senate, and community members asked Berger to run.
As a legislator, Berger increased education funding, including creating the Hathaway Scholarship program so that any Wyoming high school graduate could receive a scholarship to the University of Wyoming based on their GPA.
Berger also helped establish a legislative reserve fund, or "rainy day" account, for lawmakers to spend surplus dollars on government services during an economic downturn.
When parents told her about teen drivers dying in car accidents because they were not wearing seat belts, Berger helped to develop a graduated driver's license program. In 2002, the state saw 18 fatalities for drivers age 14-18, according to a report from the Wyoming legislature; in 2020, there were 13 fatalities of drivers age 20 and under, according to a National Highway Traffic Safety Administration report.
In 2008, Berger created the Leap Into Leadership program, offered by the Wyoming Women's Legislative Caucus, to encourage women to participate in government.
Continuing to uplift people
Following an election loss in 2016, Berger took a part-time job with Leadership Wyoming, which facilitates networking opportunities for participants in their hometowns and beyond.
"I always felt like I was the conduit between good people and good ideas," Berger said. "So I'm always looking for those opportunities that I can engage in helping others, advocating and expanding on their ideas."
Berger also serves on the boards of Climb Wyoming, a nonprofit that provides job training for single mothers, and the Wyoming Women's Foundation. She volunteers with the National Institute for Civil Discourse, which trains state legislative representatives on how to build bipartisan relationships.
Those who work with Berger praise her ability to connect like-minded people.
"I can't tell you how many times [Rosie] has said, 'Oh, you need to meet so-and-so because you have this in common,' and then, lo and behold, five years later, yes, that person I was introduced to by Rosie is a really important person to our organization and the work we are doing today," said Rebekah Hazelton, director of the Wyoming Women's Foundation.
Added Katie Hogarty, CEO of Climb Wyoming: "She really values human connection and strategically leverages that for the betterment of the state."
Helping women access leadership roles involves recognizing and addressing barriers to entry, Berger said. Women may avoid applying for jobs or running for office because they do not think they are qualified. Those with full-time jobs and families may lack time for networking and training.
"Part of what I hope that I have been able to do is to encourage women to understand that they don't have to have all of the answers to a situation or be an expert fully in an area that they are applying," she said.
Legislative representation is not equal in Wyoming, partly because working mothers may have difficulty making the oft-distant trek to Cheyenne for three months out of the year, Berger noted. Though male legislators face similar challenges, they more typically can leave their communities during the legislative session while their wives cares for their children and possibly runs the family business.
Because of winter conditions, Berger only made it home to her husband in Sheridan once per session. In total, the session and additional legislative duties kept her away from home six months per year.
Despite the challenges, Berger's pioneering efforts are paying off: As of January, 20 women are serving in the state legislature out of 93 total seats (21.5%)—up from 14 when the legislature had 90 seats in 2019 (15.5%).
Berger also continues to travel, both for pleasure and as a volunteer political advisor. In Algeria, she advised parliamentary leaders on how to develop constitutions and transparent parliamentary processes. She recently traveled to Eswatini, formerly Swaziland, to discuss how to create a parliamentary website to improve communication with the public.
The skills Berger draws on in all of her relationships still harken back to her childhood — appreciating other people's talents and finding consensus. Her public accolades aside, Berger remains proud of the family ties that set her on her way.
"When I think about seven decades of still loving my siblings and my family, we would do anything for each other," she said. "I think that is quite an accomplishment in itself."