WOMEN YOU SHOULD KNOW IN WYOMING: Gillette Photographer Strives to Give the Gift of Beauty
Cancer survivor Shana Marie Duncan has built a life on portraiture, perseverance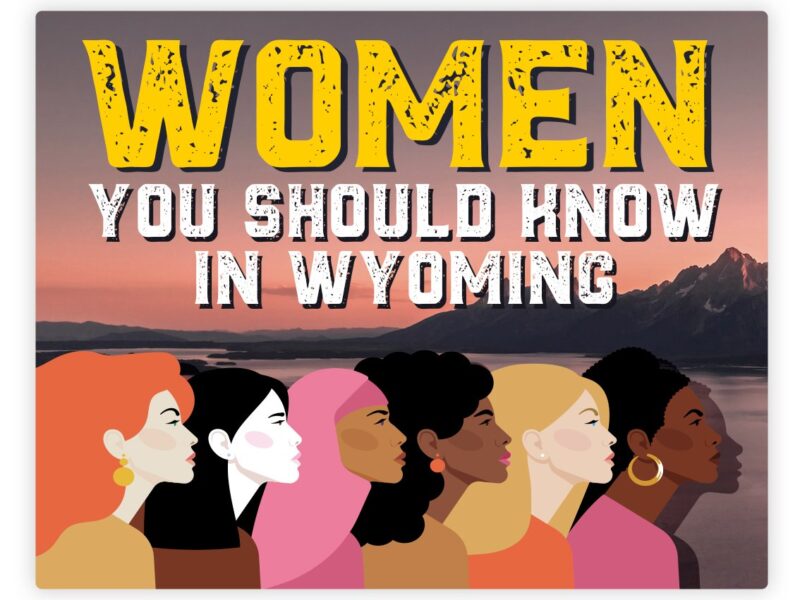 By David Dudley
Special to the Wyoming Truth
For all her time as a photographer, Shana Marie Duncan has faced one big challenge: she always felt compelled to ask permission before photographing people she saw in public.
"I didn't want to offend them," said Duncan, 47, owner of Shana Marie Moments Photography in Gillette.
It was discouraging, but it opened a window in Duncan's mind. Through it, she saw that she harbored a fear of rejection.
"It was blocking my development as a photographer, but also as a person," she recalled. "It made me kind of shrink away from the moment. I felt stuck."
That changed when Duncan saw a young girl playing near a fountain at Whitney Commons Park in Sheridan last summer.
"I struggled to get good pictures of the girl," Duncan said. "She was just too fast. If she was in the right light, she moved before I could find the picture."
Frustrated, Duncan turned away. That's when she saw the picture she wanted to make: The girl's mother, who had long, silky platinum hair, stood beneath a tree, gazing toward the horizon. Duncan instinctively tripped the shutter of her Sony a6000 camera—click, click, click—capturing every moment that pleased her eye.
"That day, I learned to shoot, then ask," Duncan recalled. "When I shared the pictures with the woman, she began to cry. She said that she had been a victim of domestic violence. I'd given her a gift, because she hadn't seen herself as beautiful for a very long time."
Learning to see
Duncan, a graduate of Sheridan High School and Ashworth College, bought a Canon Rebel XT in 1997, when her first son was born. A self-taught photographer, she learned by doing—and watching countless YouTube videos that teach users the technical aspects of the camera. Duncan was hooked by the time her second son arrived a year later.
"I wanted to document their lives for future generations," she said of her sons, now aged 24 and 25. "They were my first subjects. Then I realized I wasn't half bad at it."
Today, with her trusty Canon EOS R7, Duncan shoots weddings, birthdays, anniversaries, boudoir scenes, homes and landscapes. She spends about 30 hours a week on her business and serves over 100 clients annually.
Duncan draws inspiration from the American landscape photographer and environmentalist Ansel Adams. For portraiture, she looks to Irving Penn, best known for his fashion photography and portraits that appeared in Vogue. And she also admires the work of photographer Walker Evans, who documented the Great Depression for the Farm Security Administration.
"Faces are my favorite," Duncan said. "Everyone is beautiful, and they all have stories to tell, etched into the fine lines of their eyes, their smiles. And, I know it sounds cliché, but I believe that the eyes are the window into the soul."
When creating portraits, connection is key. The photographer must connect with the subject if the camera is going to capture the individual's true personality.
"That's why I rarely look through the viewfinder when I'm making portraits," Duncan said. "I get to know them before I arrive, then I spend 10 to 20 minutes getting to know them in their space. I don't compliment them, because they can become self-conscious. Instead, I talk about how beautiful the lighting is."
Jill Benson, director of SAGE Community Arts in Sheridan, volunteered to model for Duncan during an outreach event for the organization last year.
"Shana Marie has a fun, flexible way of working with people," said Benson. " . . . She has this way of removing the camera from the equation. She has a talent for getting people out of their heads. Her knack for positive affirmation freed me up, and was even therapeutic."
Benson particularly admires Duncan's eye for detail. "She captures magic in seemingly mundane moments," Benson said, referring to Duncan's ability to see beauty in a remote, dilapidated cabin or the moon hanging low over a pasture. "She makes us see things we'd otherwise ignore."
Faith conquers fear
It's curious that the word "no" could hold such sway over Duncan, who has faced her share of challenges. She battled cancer—adenocarcinoma, which primarily affects the body's glands—while going through a divorce back in 2008 when she still lived in Michigan.
It left an indelible mark on her life and her work. Duncan, who was only 32 at the time, recalls leaving treatment one day, and driving down a road outside Traverse City, Michigan. "I pulled over, cranked the radio and jumped out of the car," she said. "I don't remember the song, but I just danced there, beside the road."
Then, she noticed vast patches of wildflowers blooming in a field beside the road
"I'd never seen color like that before," she said. "But it wasn't just the flowers. There was also a worn-down old shop that was for sale. There was something about the faded paint that was peeling off of it that caught my eye. I saw beauty in decay for the first time."
Knowing that life was fleeting, she decided that one of her tasks as a photographer was to capture those moments for posterity.
Today, Duncan works in administrative support for the social workers at the Sheridan Veterans Affairs Medical Center. While she considers photography a side hustle, Duncan enjoys shooting portraits of the veterans she works with.
"Whether I'm shooting people at work or on my day off, I get lots of practice," she said. "I plan on doing that 'til I retire."
Duncan's perseverance appears to be paying off. In addition to SAGE Community Arts in Sheridan, her work is also on display at PO News and Flagstaff Cafe, and Sheridan Memorial Hospital. In 2021, she won the Campbell County photography contest, and her winning photo—of a long-abandoned home in Rocky Point, Wyoming—appears on the website banner for the University of Wyoming's Campbell County Extension.
"I'm driven by belief in myself, and faith in God," Duncan said.
As of today, Duncan is 55 days into a 90-day-challenge in which she posts one photo each day to her Facebook page. She writes stories—some nonfiction, some fiction—to accompany photos of phone booths, dilapidated buildings and trees cracked in half by lightning, to name a few examples.
"Words are powerful," Duncan said. "As we speak, we shape our reality. But I'm no longer afraid of the word 'no.'"