WOMEN YOU SHOULD KNOW IN WYOMING: Jackson Hole Graphic Designer Turned Hobby Into Sports Apparel Company
Taylor-Ann Smith wants to help all body types feel confident and strong on a mountain bike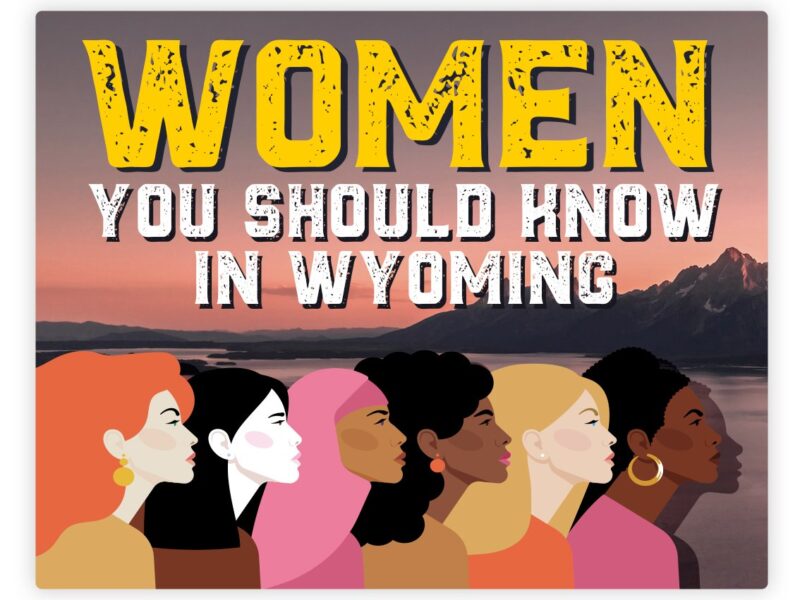 By Amber Gibson
Special to the Wyoming Truth
This story was updated as of 12:15 p.m. MT on Feb. 22, 2023.
It's not where you start—it's where you finish. That's a lesson Taylor-Ann Smith, 30, learned the hard way when she moved to Jackson from Montana and took up mountain biking.
In 2019, Smith, a graphic designer, bought an entry-level bike and went on group rides at Cache Creek trails. "I had no idea what I was doing," she said. "What I thought was mountain biking when I first started was just flat trails."
A few months later, when she was still very much a newbie, but starting to navigate small boulders, Smith got roped into a ride with more experienced mountain bikers at Ferrin's, a steep switchback trail rated difficult.
"I ended up walking that whole trail by myself in the dark crying," she recalled. "Nobody waited for me. It was the most horrible feeling. I thought I wasn't good enough, fit enough or physical enough to mountain bike."
Smith put her bike away for two years.
It wasn't until the COVID-19 pandemic that Smith gave mountain biking — a healthy, outdoor activity — another try. Petrified to ride with other people, she biked solo on beginner trails and then participated in a bike clinic with Ladies All Ride. That experience changed her life.
"I finished that weekend doing blues and learning jumps," she recalled. "I realized that I didn't have the right leadership or exposure before."
But her fashion quotient lagged behind her advancing skills: Smith was still wearing Lululemon leggings, running shoes and T-shirts – attire suited for a gym workout, but not ideal for mountain biking.
"At the bike shops, being a curvier gal, nothing fit me," she said. "And everything was pink and floral—and that's not my design aesthetic. So it made me go back to those horrible feelings."
Birth of a business
Smith didn't know how to sew a button, but one thing she knew for sure: She wanted to create a brand of mountain biking gear that was better suited for her body and style. She made a list of what she liked about other jerseys, sketched design concepts and turned to Facebook groups for advice on manufacturers.
In October 2020, she met with a small operation in Denver to discuss her vision for Ride Force, a gender neutral, inclusively sized bike gear brand for all ages and skill levels.
"I brought a bag of clothes as examples to say – this length, this fabric, these colors, these design elements," she explained. "I wanted something super loose and breathable, with a BMX street style but for mountain biking that wasn't so tight and form-fitting."
Together, Smith and the manufacturer fashioned a jersey out of a super flexible, lightweight mesh polyblend fabric imported from Italy that other brands might only use for select panels due to its steep price.
All Ride Force jerseys are printed and stitched in Denver. Since launching the brand in 2021, Smith has sold over 500 online and at organized mountain biking events – with zero returns.
Although Smith applied for many small business grants, so far she's come up empty-handed. Instead, she has relied on her own savings and contributions from her parents to fund her business. She estimates that they've invested $25,000 to date and expects to be in the green soon.
Smith still works full time as a graphic designer for Orijin Media, but she leverages her diverse skill set – web design, social media and marketing – into her new business. The name "Ride Force" represents "riding with force through difficulties, which is how the whole company began," she said. Smith hopes to expand into other sports, like snowmobiling or dirt biking, so "ride" is a broad enough name to capture other outdoor adventures.
"Thankfully Ride Force is the dream job where I get to be creative and bike," Smith said. She almost always takes photos or video for social media content when she's out for a ride, but makes time for the occasional non-work ride on weekends. Her favorite local trails in Jackson Hole are Parallel on Teton Pass and Chutes & Ladders at Grand Targhee Resort.
She spends an average of 20 hours a week in the off season on Ride Force and about 30 hours during the summer when the bike season is in full swing. For Smith, the most fulfilling part of her work is seeing strangers wearing her jerseys: "Sometimes I can't believe that I took this idea from how sh—y I felt about myself at one time and turned that into a business."
Lindsay Nohl, 45, former executive director at Mountain Bike the Tetons, called Smith's passion "infectious" and her product "incredible." Nohl coached Smith at the Ladies AllRide clinic at Grand Targhee, which renewed her interest in mountain biking and spurred her to create Ride Force.
"She loves getting involved locally in initiatives to help people learn the sport of mountain biking and support the work that goes into building the trails we all love to ride," said Nohl, noting that Smith volunteered her design service to support Mountain Bike the Tetons, a non-profit chapter of the International Mountain Bicycling Association (IMBA).
In 2023, Smith is pursuing brand partnerships rather than advertising to build an inclusive community and increase exposure and sales, including with Kootenay Adaptive Sport Association in British Columbia. In April, Ride Force will be at the Sea Otter Classic in Monterey, Calif., the biggest mountain bike event in the United States, with 74,000 attendees over four days.
Smith now works with several brand ambassadors nationwide; her selection criteria prioritizes their community engagement over race statistics and skill level. "I want people to see anyone who wears my jerseys as a coalition of supportive riders," she said. "My gear helps you become better, and these are people [who] will help you do that and wait for you at the end of the trail."
Despite her early struggles, Smith views mountain biking as one of the best aspects of her life. The sport has taught her to be patient, to power through obstacles and to trust herself.
This summer, Smith will finally return to Ferrin's —the switchback trail where her journey began with tears and bruises — and document her redemption ride on video. She's overcome so much in a short time, and her journey with Ride Force is just getting started.