WOMEN YOU SHOULD KNOW IN WYOMING: Miss Rodeo Wyoming Serves as Ambassador for Sport, State
Reata Cook of Sheridan rides in a lineage of rodeo royalty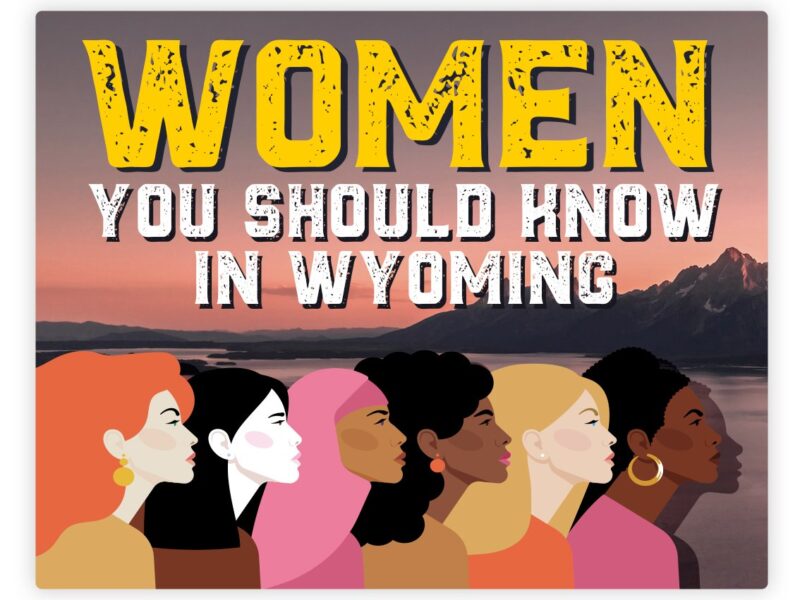 By Elizabeth Sampson
Special to the Wyoming Truth
Rodeo queens are a combination of dazzle and dust, crowns and cowboy boots, and Sheridan's Reata Cook is proud to join their ranks as Miss Rodeo Wyoming 2023.
Cook, 22, began her reign in January and has already logged about 2,000 miles on the road and many in the saddle. She attended the National Western Stock Show in Denver in January then went to the Black Hills Stock Show in South Dakota in February. Next it was off to the Silver Spurs Rodeo in Florida.
At each event — from rodeos and galas to elementary school visits — Cook wears rodeo queen regalia, serving as an ambassador for the sport of rodeo, the Professional Rodeo Cowboys Association, the state of Wyoming and the western way of life.
"Our Western heritage is so special, and it's really different than anything else," Cook said. "There is the hard work ethic, and everybody comes from a similar background and has instilled in them different skill sets that have made them who they are today."
Dressed in brightly colored western shirts, crowned cowboy hat and queen sash, Cook stands out in any crowd. And her distinctive crown helps her stand out even among other states' rodeo royalty.
Wyoming's queens inherit a crown made with Wyoming jade and embellished with two bucking horses; it is passed down from one queen to the next.
"It is very unique to Wyoming," Cook said. "I have a lot of people say when we're in group photos they can always spot Miss Rodeo Wyoming."
The distinctive crown makes it easier for Cook to carry out her ambassador role, discussing the sport of rodeo and the state of Wyoming as she signs autographs.
Cook speaks from experience, having competed through high school in barrel racing, pole bending and goat tying. She spent most of her childhood summers breaking horses on her grandfather's ranch, located on the Crow Reservation in Wyola, Mont., near the border of Montana and Wyoming, but enjoyed attending small local rodeos with her family in their free time.
Thanks to her many years on horseback, Cook is comfortable riding any horse that comes her way. Typically, the stock contractor at each rodeo provides horses for visiting queens, so the women don't have to haul their own horses for hundreds of miles. Still, expert horsemanship is a must.
"It makes us better cowgirls because we get to ride a lot of horses all year long," Cook said.
Ranch life and rodeo
Growing up on a ranch, Cook helped with feeding the animals, fixing fences, gathering cows, baling and stacking hay and branding. Cook and her brother even have their own brand, given to them by their grandfather.
"My brand is quarter circle 44," Cook said. "The top of the fours point to the left. Each year come branding time, we all got at least one calf branded with our brand. It's a way we all have built up savings to go to college, but also learned a lot of life lessons on the ranch. The work you put in is what you get out of it. Learning about the loss of livestock and why it is important we care for our livestock. The livestock always get fed before you do. Get up and rub some dirt on it was always said, whether on the basketball court, gathering cows, or even when life got tough."
As a girl, Cook admired local rodeo queens, especially those from Sheridan where her mother, Kerri Parr, taught elementary school. Parr and Cook's aunt both were Sheridan County rodeo queens and competed for Miss Rodeo Wyoming in the 1990s. In 2001, the year Cook was born, her mother started volunteering with Sheridan County's queen committee, so Cook was surrounded by rodeo queens wearing elaborate chaps and galloping through arenas while they carried a wind-whipped flag.
Now, as statewide queen, Cook hopes to encourage more young women to seek the jade crown. While Cook competed against two contestants in August at the state fair, Parr faced 14 competitors when she vied for the title in 1996.
"Growing up and watching a couple girls come from Sheridan and win Wyoming, they were big role models for me…," she said. "They are a big reason I ran for Miss Rodeo Wyoming, and I want to be that for the other little girls in the state of Wyoming."
Starting Friday, Cook will host a three-day clinic for young queen hopefuls aged 12-25 at the Holiday Inn in Rock Springs. Selena Ulch, Miss Rodeo America 2005, will join Cook to coach future queen candidates on what it takes to succeed in a rodeo queen competition: appearance, equine knowledge, current events, personality and public speaking.
Lois Bass, who serves on the Miss Sheridan WYO Rodeo committee, has known Cook since her days as a rodeo princess and the 2022 queen in Sheridan. She said Cook's leadership qualities will get even stronger during her year traveling the country.
"She has an amazing character, has a strong faith and she has a strong work ethic," Bass said.
Cook received $2,000 in scholarships for winning Miss Rodeo Wyoming, plus smaller scholarships as Miss Sheridan WYO Rodeo queen in 2022 and princess before that. She's used the money to help pay for her elementary education degree at Chadron State College.
Beyond the scholarships, being a rodeo queen has helped Cook hone her public speaking abilities—something she found challenging as one of six students in a speech class at Big Horn High School.
"They were all my friends, and I would get up to give my speech, and I would cry," Cook recalled, laughing. "However, through the opportunities that rodeo queening has given me, I have grown immensely in my public speaking and my presence around people."
Cook also overcame her fear about heading out on her own and stepping into the "big shoes of Miss Rodeo Wyoming," acknowledging she was nervous before she left home for the National Western Stock Show in Denver.
"That really scared me, honestly, but then it was so much fun, and I got to meet a lot of the other state queens," she said. "If I can get through the Denver Stock Show, I can get through anything."
Cook's travel schedule will pick up even more in May when she starts attending out-of-state events and Wyoming rodeos, including Cheyenne Frontier Days, the Cody Stampede and the Sheridan WYO Rodeo. As Miss Rodeo Wyoming, her duties will range from carrying sponsor flags to helping with mutton busting events and directing fans to their seats.
In December, Cook will compete for the Miss Rodeo America title in Las Vegas, where she will once again be judged on horsemanship, appearance and personality. Crystal Myers of Riverton, the current Miss Rodeo Wyoming National Director and the 2007 Miss Rodeo Wyoming, has been coaching Cook since she was crowned in August.
"We look for the full package—someone who can speak to fans and can relate to young kids who are enamored with the lifestyle," Myers said. "Reata really does that well."