WOMEN YOU SHOULD KNOW IN WYOMING: Native American Artist Upends Convention While Respecting Tradition
Talissa Abeyta's contemporary take on unique art form stays true to Wyoming roots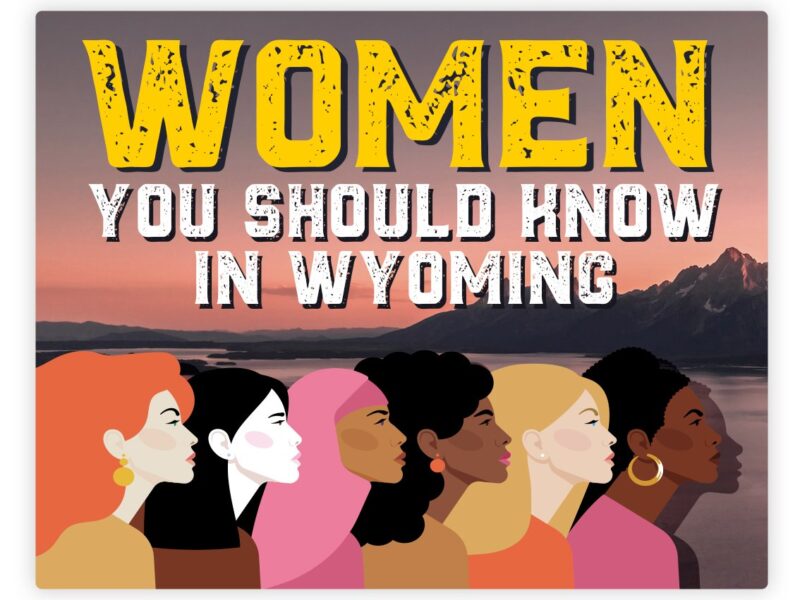 By Bob Wooley
Special to the Wyoming Truth
From the walls of Underscore Art and Jewelry, an upscale gallery in Whitefish, Montana, colorful works by contemporary Western artists beckon locals and tourists alike. The art is sophisticated, thoughtful — conveying ties to the region felt by its creators.
But perhaps unequaled in both authenticity and heritage, Wyoming artist Talissa Abeyta's modern ledger paintings tell stories of her deep connection to the original inhabitants of the American West and her own connection to the land.
Young, accomplished and determined, Talissa Abeyta is a woman breaking barriers and rewriting the rules of a historic art form. Her work embodies the spirit of resilience through stories that resonate with today's generation while maintaining respect for the past.
Abeyta's work is mature, with a refined point of view belying the fact that she began pursuing a career in fine art just four years ago after having first studied architectural engineering. A painting class at Central Wyoming College in Lander made her realize an artist's life was her true calling, and she changed course midstream, graduating with an associate degree in art in 2019.
Art professor Matt Flint recognized Abeyta's painting ability from the start, and she continued to impress during her time at the school.
"At the end of the students' time at school, they have a show that they put together," he said. "Talissa brought in her first series of ledger art which was instantly well-received — I think she sold that show out. And as a student that's a pretty big feat, to be at that level of proficiency."
Flint continued to mentor Abeyta after she finished school, eventually helping her find gallery representation. Abeyta's paintings at the gallery command a serious price: Currently listed pieces range from $2,500-$7,800.
"It's been a whirlwind," Abeyta said of her rapid ascent as an exhibiting artist.
Heritage-inspired work 
Abeyta, 33, was born and raised on the Wind River Reservation, where she still lives. She is a sixth-generation descendant of both Chief Washakie of the Eastern Shoshone and Wovoka of the Paiute; she's also part Northern Arapahoe. The two tribes — Eastern Shoshone and Northern Arapahoe — historic enemies, came to share the Wind River reservation through a series of contentious and complicated negotiations orchestrated by the U.S. government in the late 1800s.
Though she's an enrolled member of the Eastern Shoshone tribe, Abeyta said her mixed heritage and experience attending off-reservation primary schools give her a unique view of her culture.
Abeyta said ledger art began somewhere around the 1860s as a way for Native American artists to continue telling visual stories despite a shortage of animal hides widely used as canvases at the time. There was a resurgence of the style in the 1920s and again in the 1960s. Since then, it's become a well-established tradition in Native American art.
While steeped in reverence for, and often featuring themes of traditional ledger art, Abeyta's work is unique in that her paintings are as likely to tell modern stories, incorporating portraits of more contemporary Native American figures such as prima ballerina Maria Tallchief, gold-medalist Jim Thorpe or even prominent tribal leaders of today.
That approach has garnered her praise, but also some criticism from more strict adherents to the style in what has sometimes been considered a "man's world."
"There have been a few times that I've actually been questioned about my style — even told as a woman, I had no business making ledger art," Abeyta said. "Historically, the elements in ledger art are a little bit more representational — more two-dimensional. But I've never made claims that I'm a traditional ledger artist. It's more of me just respecting that style and where it came from. Because it is a part of Native American culture that I love to celebrate."
When asked about obstacles she might face as a young Native American woman and artist, she exudes the quiet confidence of someone undaunted in the face of a challenge.
"People are free to think what they like, but I don't let those opinions affect me," she said.
When she started painting, Abeyta thought there wasn't enough modern representation of Native Americans in art.
"With ledger art specifically, a lot of it is traditional — stories of our history that have been told many times — which is beautiful. I respect that. But I also felt like we should see more of what we as a people are doing today," she said. "Ledger art is an art form that shows a sense of resilience. It's come a long way, and it's here now. It speaks to us as a people — the resilience of Native Americans is something I want everyone to see."
Flint is a big fan of Abeyta's ability to personalize ledger painting and make it contemporary while still respecting history.
"What's so unique and special about her work is that it's coming from this feminine perspective and also from this very current cultural idea," Flint said. "And she seamlessly mixes these two worlds."
Abeyta works in a studio space in her parents' home on the reservation. She shares the "Art Room" with her father, who makes regalia worn by tribe members in traditional ceremonies.
When discussing her process, Abeyta said she respects timing and inspiration. But those intangibles can often run up against real-world demands of deadlines and the responsibility of being a single mother to her 10-year-old daughter.
A busy year ahead
This spring, Abeyta is creating work that will be exhibited at Cheyenne Frontier Days in July and painting four new original pieces for an upcoming solo gallery show at Underscore. Her work also is part of "Grounded," a touring exhibition featuring a variety of art forms by 15 contemporary artists from Indigenous tribes traditionally based in the Great Plains region. The exhibition can be seen at the Wyoming State Museum in Cheyenne through May 20; it will then move to cultural centers in Jackson, Worland and Rock Springs.
"Right now I'm a little bit behind. But I'm getting there," she said with a laugh.
Experimentation, like printing ledger elements onto a blank canvas, have allowed Abeyta to paint on a larger scale, which makes her work marketable in the competitive gallery world. She recently completed her first mural on the side of a bakery in Lander owned by Flint and his wife.
The mural was drawn from one of her original gallery pieces and depicts the history of both the Shoshone and Arapahoe.
"It's a way of saying this is who I am," Abeyta said. "Both cultures are so beautiful, but they are so different. The piece is actually Chief Washakie's war shirt design, because I wanted it to represent strength and the battles that he won. He was known to be a great one-on-one combat fighter, but he was also humble and down to earth. They called him the sweetheart of the West."
Wyoming roots and her love for her native land continue to inspire and guide Abeyta's work.
"Throughout the years, my perspective of home has helped me grow as an individual," she said. "A lot of people aren't that fond of saying they grew up around here. But my dad always told me that your home is where you will always go to regain strength. It's basically the heart. So that's why we come home — that connection to the people and the culture is a part of us. It's like missing a key element to your existence when you're away."