WOMEN YOU SHOULD KNOW IN WYOMING: New Heart Mountain Executive Director Brings Japanese American Perspective
Aura Sunada Newlin is a fourth-generation Wyomingite with a family connection to WWII detainment site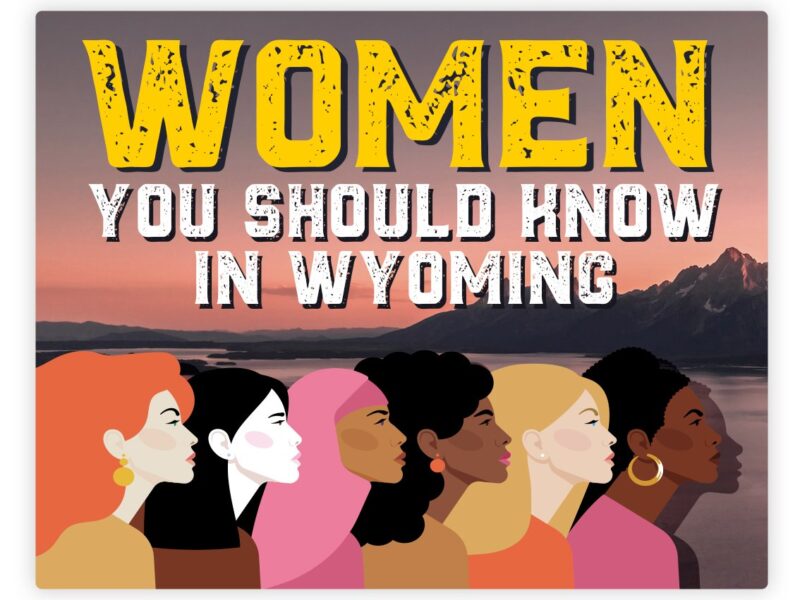 By Elizabeth Sampson
Special to the Wyoming Truth
Aura Sunada Newlin's heritage is half Japanese, half Irish and all Wyoming.
She grew up in Riverton surrounded by the Wind River Indian Reservation, dreamed up her own degree program at the University of Wyoming and returned to the state after graduate school to sink her roots deeper into her native soil. Sunada Newlin's heritage is in her blood and on her skin: a shoulder-blade tattoo features an Indian paintbrush (Wyoming's state flower) and Japanese characters that say "mountain soul."
Now this fourth-generation Japanese Wyomingite is bringing her unique perspective to Heart Mountain Wyoming Foundation. As the private nonprofit's new executive director, she teaches the World War II incarceration experience of Japanese Americans.
Heart Mountain World War II Japanese American Confinement Site, located between Cody and Powell, was one of 10 camps built to confine people of Japanese descent from the West Coast out of a fear they would support Japan's war efforts.
Sunada Newlin's family was part of that group. Around 1905, both sets of her maternal great-grandparents emigrated from Japan to southwest Wyoming. One set lived in Wyoming for 30 years, relocated to Hollywood and opened a grocery store just in time to be detained and returned to Wyoming for confinement at Heart Mountain in 1942.
Now Sunada Newlin, 42, of Cody, will leverage her cross-cultural communication skills, family background and academic credentials to tell the story of Heart Mountain while highlighting the center's burgeoning mission to foster civic dialogue on divisive issues.
"The thing that has always motivated me about the Japanese American history and camps and incarceration, is it's partly about honoring my relatives and partly about remembrance and memorializing the past," she said. "But for me, it has always been more about engaging in current discussions about race and ethnicity and immigration and national security."
'The power of place'
As a child, Sunada Newlin felt compelled to learn about her mother's culture. She took private language lessons and visited Japan to meet extended family, but it was never a fit. At heart, she felt like a Wyoming girl.
"I feel connected to the landscape–the sky, the 360-degree horizons, the mountains, even the wind," said Sunada Newlin, whose father is of Irish heritage. "I feel a sense of home here with the people. It is easy to talk to people and connect with people since it only takes a short conversation with a stranger to learn who we know in common."
When Sunada Newlin and her siblings were young, people didn't see them as Japanese. In recent years, they have discussed what it was like growing up mixed race—and realized they didn't fit into either group.
"People couldn't really tell what we were," Sunada Newlin recalled. "For me as the taller, lighter one of my siblings, I was mostly going through life with a white passing existence. And now I see all sorts of Japanese features in myself."
Sunada Newlin came to identify as a descendent of Japanese immigrants to Wyoming. "The immigrant experience is very American," she said. "My grandma and grandpa look Japanese, but they are so American. They are so Wyoming."
For her grandparents, that meant decorating their house with Wyoming trinkets and creating bucking horse-themed art. And it meant simply being proud of being from Wyoming.
And for Sunada Newlin? "Being a Wyomingite means being unpretentious and grounded—and a little bit rough around the edges," she said.
After graduating from Riverton High School, Sunada Newlin earned a self-designed ethnomusicology degree from UW. She taught sociology and anthropology at Northwest College in Powell for nearly a decade and last year taught Asian American Studies at UW. Sunanda Newlin, who is married to master shakuhachi musician Michael Chikuzen Gould, also speaks nationally about Japanese American incarceration.
Now an anthropologist pursuing a doctorate from Case Western Reserve University, Sunada Newlin likes to debunk the notion that anthropology is the study of primitive people of the past from far-off places.
"Anthropology is really about understanding the human condition and what makes this life we live so messy and complex and beautiful," she said.
That plays directly into Sunada Newlin's work at Heart Mountain—the Mineta-Simpson Institute, which is named for two childhood friends. Norman Mineta and his family were detained at Heart Mountain; Mineta served as a California congressman and held cabinet posts in the Clinton and Bush administrations. Alan Simpson grew up in Cody and became a three-term U.S. Senator. The pair met as Boy Scouts when their troop leaders arranged a visit between the Cody and Heart Mountain troops, and decades later, they worked together in a bipartisan fashion on Capitol Hill.
Sunada Newlin said the Institute is designed to bring together community leaders—including lawmakers, educators, scholars and journalists—for civic dialogue and collaboration on issues facing our democracy.
"We [want] to wield the power of place we have at Heart Mountain to bring people into these conversations in a way that they're not ripping each other apart," she noted.
While the new conference center is slated to open in 2024, Sunada Newlin and her staff continue to operate the site's history museum and protect the remaining structures from the original camp. By telling the heavy truth of the Heart Mountain experience, Sunada Newlin hopes it can become a place of healing for former incarcerates and their descendants.
"The coping mechanism during and after the war was people just didn't talk about it," she said. "This was partly a government-driven manipulation of our community and partly an aspect of Japanese cultural values. We kind of buried it. As a community and a nation, we've just said, 'That was a bad thing that happened, but there's no use dwelling on the past. It's time to put our heads down and work hard and make sure our children have a better life than we did.'"
Sunada Newlin said that led to what many people perceive as an amazing recovery by the Japanese American community at large. But it also caused latent, multi-generational trauma. Now younger generations want to learn about what happened and reclaim that history for themselves.
Bridging divides 
UW professor Jean Garrison is impressed with Sunada Newlin's ability to see opportunity in the context of challenging history.
"She is proud to be a Wyomingite and just as interested in helping people understand the complexities and nuances of the state," Garrison said.
Sharing this knowledge is familiar for Sunada Newlin. One of challenges and highlights of her career has been engaging with rural students and audiences about her dual heritage as a woman whose relatives experienced extreme racial hostilities.
"[I like to bring] those two narratives together, so people can understand that these are not polar opposites," she said. "You can be a rural Wyoming conservative person and also see that there are wrongs and harms that come out of racial exclusion and identity-based exclusion."
Though these topics can be contentious, Sunada Newlin has made a career out of successful cross-cultural communication.
"I think that's maybe my superpower—to connect with people across the political spectrum, across racial divides, across generational divides," she said. "I find so much fulfillment and gratification in being able to develop real relationships of respect and love with people who, on the outside, might seem like they're too different from me to get along. In fact, that's a false narrative all of us have been fed."
Sunada Newlin paused. "We have more in common than we realize," she said, "if we're willing to sit down and learn each other's languages and see each other as humans."