WOMEN YOU SHOULD KNOW IN WYOMING: Preservation of Language, Culture a Key Focus for Eastern Shoshone Educator
D. Lynette St. Clair is dedicated to sharing Indigenous knowledge with new generations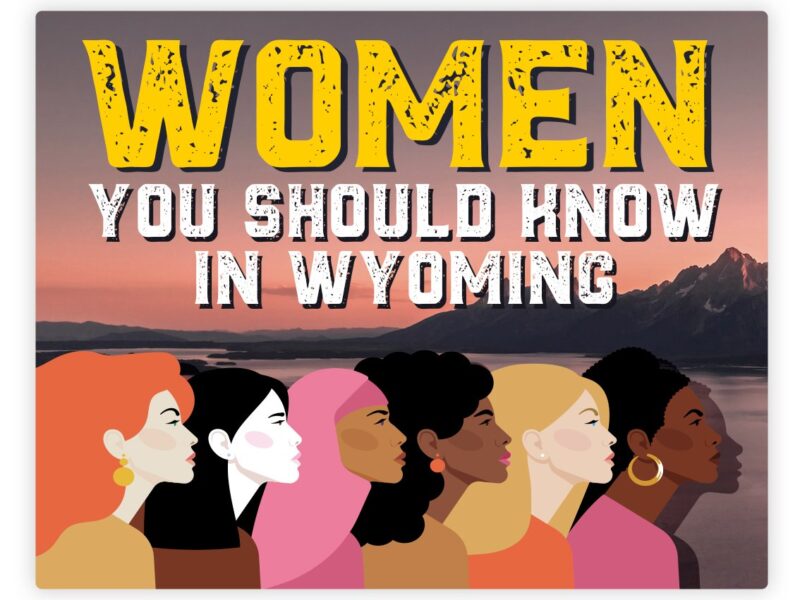 By Shen Wu Tan
Special to the Wyoming Truth
It's not every day you get to apply your language skills to a newly discovered dinosaur species.
But middle school students in the Fremont County School District on the Wind River Reservation did just that, working with tribal elders last spring to come up with a Shoshone name for the species, which was unearthed outside Dubois. (The name can't be revealed since research about the discovery hasn't been released.)
Still, it is one example of an effort to preserve the Shoshone language and cultural heritage, a mission D. Lynette St. Clair—linguist, educator and member of the Eastern Shoshone Tribe on the Wind River Reservation—strives to achieve in her work.
"I think it's really important for our young people to understand the great sacrifices that some of our grandparents have made for us to be here today, you know?" St. Clair told the Wyoming Truth. "And I think it's important for them to not only take pride, but to honor that and to honor the past and honor who they are and where they come from."
St. Clair, 56, is the Indian Education Coordinator for Fremont County School District (FCSD) #21, where she focuses on preserving the Shoshone language and traditional knowledge of using the land for survival, such as fishing and harvesting. Additionally, she helped develop Newe Daygwap, a Shoshone language app and a classroom learning tool. "Newe daygwap" translates to the "people's language," a reference to the term Indigenous people.
"I have a vested interest in this community," said St. Clair, who was raised in Fort Washakie on the Wind River Reservation and spoke Shoshone with her parents, siblings and grandmother.
"I'm hoping these young people coming out of our education system are going to be leaders in our community and be able to lead and protect our reservation," she said.
"Lead by example"
As the Indian Education Coordinator, St. Clair integrates Wyoming's mandatory "Indian Education for All" curriculum into statewide social studies standards. She also develops curriculum focused on core beliefs of the Eastern Shoshone Tribe, such as respect, honor, language and spirituality.
For example, the core belief for the month of January was family—or nahwhanduh in Shoshone. With that concept in mind, students on the reservation honored ancestors killed in the 1863 Bear River Massacre on a day of remembrance last month.
Teaching non-native children about Indian education enables them to learn about the rules of governance and the tribes' unique relationships with the state and federal governments, St. Clair noted. This full picture of historical events, she said, will give them the necessary knowledge to avoid repeating mistakes of the past.
"The larger picture is that we have all of these historical events in our tribal timelines that are not part of the regular history books — you know, the assimilation process, the boarding school era, all of these failed federal policies that had a significant impact on tribal communities are there," said St. Clair, who holds a master's degree in Native American leadership from Southeastern Oklahoma State University and a bachelor's degree in public relations from Montana State University-Billings.
"We don't know about them unless we learn about them…." she continued. "As future leaders of our nation, it gives them the tools and the resources and the knowledge and the background information to make informed decisions and to really critically think."
St. Clair's secretarial job at Fort Washakie School in the 1990s piqued her interest in education and ultimately led her to serve as the Indian Education Coordinator from 2007 to 2012. After that, she taught the Shoshone language at the Fort Washakie School and Wind River Tribal College. Additionally, she was a Shoshone culture instructor and career and college education teacher before resuming the Indian Education Coordinator position in 2018.
"The road always leads me back to education and language," said St. Clair. "I do what I can to improve my own situation, but also to serve as a role model for our community and our students."
Jen Runs Close to Lodge, a librarian at the Wyoming Indian Middle School, described St. Clair as a person who is rooted in culture, tradition and her identity as an Eastern Shoshone woman.
"She's very passionate about language and making sure that language continues to be spoken, because you don't have anything if you don't have your language," Runs Close to Lodge, a member of the Oglala Lakota Tribe, told the Wyoming Truth. "Language is vital to who we are as native people …. And I know she truly believes that if we all work together, the Shoshone language can be saved, and it will be spoken by not only her grandchildren, but her great grandchildren."
Even in her spare time, St. Clair works to preserve her culture and teach others about the Shoshone people. She is a member of the Lander Art Center Board and American Indian Education Committee. St. Clair also provides education about the Shoshone people to non-native organizations, including the Buffalo Bill Center of the West, a museum in Cody.
St. Clair's efforts have been recognized nationally and statewide. In 2015, she received the National Johnson-O'Malley Teacher of the Year Award. Four years later, she won the Wyoming Woman of Influence Award in the education category.
But in St. Clair's mind, her greatest achievement is her two daughters: Gabby, who studies elementary education at Montana State University, and Jennifer, who is the secretary at Fort Washakie School.
Not surprisingly, both young women speak a mix of English and Shoshone at home and understand traditional knowledge.
Said St. Clair: "You have to lead by example, so hopefully [I inspire] my own children."