WOMEN YOU SHOULD KNOW IN WYOMING: Scientist Brings NASA's Work to the West
As director of space agency's STEM engagement programs, Shawna McBride turns research dreams into reality for Wyoming students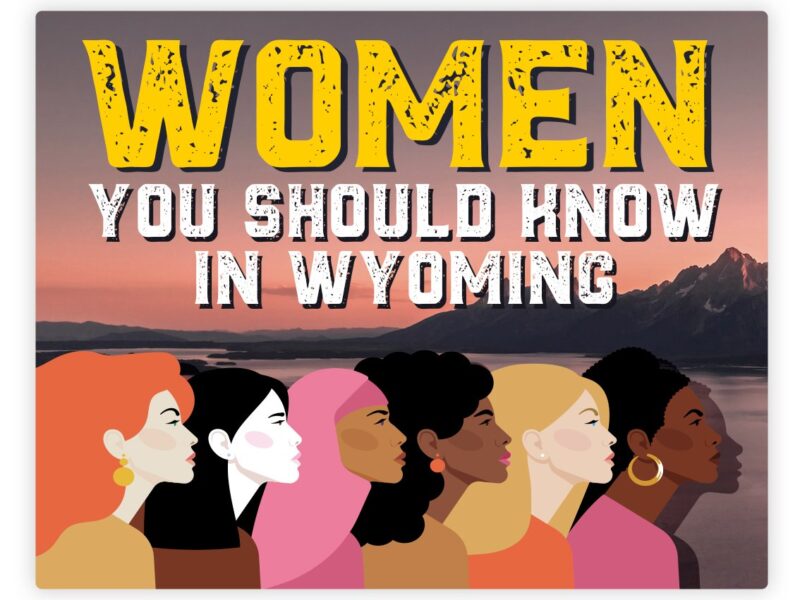 By Sarah Scoles
Special to the Wyoming Truth
On October 14, parts of the western United States will experience a strange cosmic sight: an annular solar eclipse. The moon will pass in front of the sun, blocking most of its light and leaving a "ring of fire" in the sky. In April 2024, Earth will see a total solar eclipse whose path will cross the country.
That's cool enough, but imagine experiencing the effects of those eclipses from the stratosphere. That's what will happen to weather balloons, launched by students from Casper College, Central Wyoming College and the University of Wyoming, after traveling to the eclipse path.
Though these projects won't reach space, they are funded by NASA in part through Wyoming's NASA Space Grant program. Its leader? Shawna McBride.
McBride beams, not unlike a sun herself, when she talks about the students' work, which will research how the eclipse affects gravity waves, cosmic radiation and weather patterns. She enjoys nurturing and directing curiosity in students across Wyoming as director of the state's NASA STEM Engagement programs.
NASA centers are located in only a few states, so the agency can seem geographically and philosophically far from places like Wyoming. It's McBride's job—and joy—to bridge that distance and bring space home through the programs she leads from Laramie, including the NASA Space Grant. From visiting K-12 schools to funding research at colleges and universities, McBride and the Space Grant group take what can seem like far-away topics and spread them from the plains to the Tetons.
"We're kind of like NASA in our state," she said. "We touch a lot of people in the state and try to get people excited about what's going on with NASA and also just science and engineering in general."
From business to balloons
It's always been important to McBride to find what excites her—and chase it wherever it floats.
McBride, 50, grew up in Buffalo, camping and playing sports. Along with those active interests, she was a school-centric kid—good at math and science.
"I was drawn to the scientists just understanding how things work and putting things together," she said. They pieced the world into a puzzle-like picture, an enterprise she helps students and professional scientists alike pursue today.
In seventh grade, McBride participated in the science fair, examining pH levels in Lake DeSmet, between Buffalo and Sheridan, at a time acid rain was a big topic. "My findings were not very significant, but it was a good experience," she recalled.
Despite her world-discovery interests, McBride first studied business and accounting and then engineering in Montana, before taking on biology at UW. After graduation, she worked for the Forest Service and the Red Cross and then returned to UW to earn a master's degree in physiology and a doctorate in neuroscience.
In her last year in graduate school, McBride finally found her calling: She traveled across Wyoming, sharing the scientific spirit as she told students about her research and led them in activities like dissecting (nonhuman) brains or eyeballs.
When the position with NASA opened up, it seemed perfect—even if it involved fewer organs. "I kind of jumped on it," she said. "And I've been here ever since." Here, with the NASA efforts and here in Wyoming.
McBride loves to travel, but Wyoming is home. She likes the small-town atmosphere, the ease of hiking and skiing, the schools and the environment for raising her 8-year-old daughter, whose interests, not surprisingly, include science.
"She has an 'experience' lab in our garage where she mostly mixes water, food coloring, baking soda, mud, anything she can find," McBride said. "She is also pretty into artsy things," and aspires to be a traveling scientist/doctor/vet/fashion designer when she grows up.
McBride's own sidestepping trajectory has aided with her kid connections. "I think it helps to relate to students and encourage them to keep going, even if they don't know what they want to do," she said. That relates to the open-minded advice she gives: "It's good to try different things and not put pressure on yourself to have it all figured out."
In May, McBride will help around 500 young women in 7th through 12th grades enact that curiosity during the Space Grant's Women in STEM program at UW. They'll meet some of the school's investigators and leaders from institutions like Denver Zoo. And they'll get their hands on science and their eyes on real-life researchers, in whom they may see their future selves. Some might even see themselves in McBride.
McBride wants to give more people opportunities to see themselves in STEM. Megan Candelaria, the Space Grant's associate director, praised McBride's dedication to diversify the field—thinking about how to best engage rural communities and supporting groups like the Wyoming Latina Youth Conference and the Interdisciplinary Climate Change Expedition, which recently took Indigenous students from Central Wyoming College to Mount Everest's base camp to conduct research.
The Space Grant program also partners with UW and Wyoming's community colleges to provide fellowships and internships for space-interested folks. That's in addition to working with informal education groups, such as Jackson's Wyoming Stargazing, an event where the public can look at galaxies through big telescopes.
And McBride helps champion it all.
"She has a quiet presence in a room, and when she speaks, everyone listens," Candelaria said. "Shawna is the person you want on your side whether you are facing a challenging situation with an advisor or preparing a large grant. She is supportive without being overbearing; compassionate without being overwhelming."
Stellar gazing
In her role, McBride also directs NASA's EPSCoR program in Wyoming. EPSCoR stands for "Established Program to Stimulate Competitive Research," which was created in the 1990s to help states like Wyoming become more competitive in research. Currently, a huge percentage of federal research money goes to a few states (like California) and to high-profile universities (Harvard).
UW scientist Di Yang recently received an EPSCoR grant to hold "hackathons" statewide, where innovators will develop software tools to help NASA sort through troves of data that citizen-scientists gather about mosquito habitat and land cover.
As the age range of these programs suggests, McBride likes supporting people at different phases of their own exploration: Maybe first helping a middle school fund its robotics program or sending a class a "space trunk" with rocketry materials inside. Then, her programs can bolster students as they embark on their own science projects in college and piece together their next steps.
McBride calls her approach: "How can we help you continue?" Speaking of that "how," McBride—always open-minded—is interested in hearing what Wyomingites think might engage their children, friends, peers or neighbors in the study and appreciation of science.
"We're always more than happy to talk to people, meet with people and hear new ideas," she said. "Or we have lots of programs that you can just apply for. So check us out!"