Traffic Violations, DUIs and Public Intoxication Dominate Teton County Criminal Cases, Court Records Show
Believed to be the first survey of its kind, the Wyoming Truth gathered data for a year on all criminal cases in the tourist capital of Wyoming
Most of the criminal matters involved traffic violations, making up 77.7% of the cases, data shows. DUIs ranked second at 5.3%, and public intoxication came in third at 3.9%. Miscellaneous crimes, such as public urination and violation of a protection order, followed at 3.4%. Possession of controlled substances placed fifth at 2.7%. (Wyoming Truth graphic by Hilary Erickson)
By Shen Wu Tan
Special to the Wyoming Truth
Over the course of a year, the Wyoming Truth gathered data on every criminal matter that passed through the courthouses in Jackson Hole, the world-renown tourist capital of the state, and the results show that Teton County is rife with minor offenses, led by traffic violations, DUIs and public intoxication.
The good news: There were few violent crimes, and Jackson Hole is generally a safe place. But those top three criminal charges totaled 2,200 over the past year—an average of six crimes per day—and a key question is: To what extent is that a problem for a county hailed for its tourism?
"Crime is crime, whether you steal a candy bar or get a DUI," said Jelea Nicoll, marketing and sales manager at Snow King Mountain Resort in Jackson. "….Those laws are in place for everyone's safety…And as a whole and as a community, the worse that it gets, and the higher those crime rates get and the worse that those crime rates get, the harder it is going to be for us to say, 'Hey, come to Jackson Hole. It's a great time. It's a family-friendly, safe place to be.'"
The data – believed to be the first time such extensive records have been collected and analyzed in Wyoming – provides a detailed snapshot of the criminal cases unfolding in one of the major economic and most important centers of Wyoming.
Most of the criminal matters, 77.7%, involved traffic violations, such as speeding tickets and following too closely. From July 2021 to this July, there were 1,967 traffic violation charges in Teton County. DUIs were the second-most common crimes at 5.3% with 134 charges.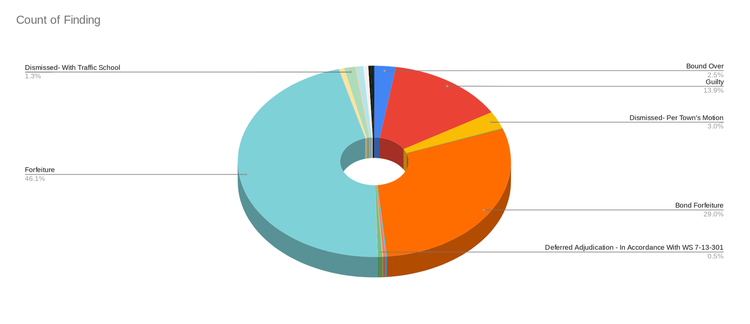 "I think by far the most dangerous thing that happens in Teton County on a daily basis is driving under the influence," said Dick Stout, a criminal defense attorney with the DeFazio Law Office in Jackson.
Public intoxication came in third at 3.9% with 99 charges. Miscellaneous crimes, which included public urination, charges related to animals, open containers of alcohol, violations of protection orders and sleeping and occupying in unlawful places, accounted for 3.4% with 86 charges.
Possession of controlled substances placed fifth at 2.7% with 68 charges, and fishing violations followed at 1% with 26 charges. Hunting violations, burglaries and thefts tied at 0.9% with 22 and 23 charges respectively. Property destruction trailed close behind at 0.8% with 19 charges.
"A significant amount of crime committed anywhere tends to be minor offenses and that is what your data shows," said Kyle Bares, an assistant professor in the department of criminal justice and sociology at the University of Wyoming. "That doesn't mean that other crimes are not occurring, they may just simply have not been identified, which again, is normal anywhere."
The Wyoming Truth, which collected data on all criminal dispositions in the municipal and circuit courts in Teton County over 12 months, identified over 2,500 criminal charges passing through those courts.
Gathering the data required obtaining the cooperation of court clerks and visiting the circuit court in person every couple of weeks for a year, as these public records are not digitized. The municipal court case data was collected from the Jackson Town Council meeting minutes that include court dispositions once a month. The disposition of each case file was identified, hand recorded and placed into a spreadsheet based on the available categories in the court records, such as the nature of the offense. The statistics were then analyzed.
Few serious crimes were reported in the county. For instance, there were 18 aggravated assault and battery charges, two sexual battery charges, one simple assault charge and two charges of causing bodily injury to a peace officer, the data shows.
However, according to U.S. News & World Report, violent crimes occur in the county at a rate of 376.5 per 100,000 people, which is well above the U.S. rate of 204.5 per 100,000 and the state rate of 220.1 per 100,000.
The Wyoming Truth also discovered that 46.1% of criminal charges resulted in forfeiture, when a defendant pays a fine without going to court, while 29% led to a bond forfeiture, meaning the defendant didn't have to show up for court, forfeited their bond and satisfied their charge.
Offenders were found guilty of nearly 14% of the criminal charges in municipal and circuit courts; 3% of charges were dismissed per a town's motion; 2.5% were bound over, or transferred to the higher district court; and 1.3% of charges were dismissed with traffic school. In the circuit court, 22.1% of charges resulted in a guilty finding, while nearly 74% led to a forfeiture.
Russ Ruschill, a Jackson Police Department lieutenant, said he was not surprised that traffic violations and DUIs comprised the majority of cases. But he noted the severity of the issue. "Traffic-related deaths in Wyoming outnumber murder and non-negligent homicides greatly," he said.
Ruschill added, "Generally, I would say that we are blessed to live in a place where serious violent felonies are rare. With that said, I'm not sure our crime rates would affect people's decisions to visit Jackson. People come to Jackson for the outdoor recreation opportunities and because of our proximity to two national parks."
The Jackson Police Department publishes arrest data on its website and submits crime data to the Wyoming Division of Criminal Investigation. However, the 2021 crime report from this state division says the police department only submitted crime data for seven months last year. The division uses a different methodology than the Wyoming Truth to track crime. For instance, the Wyoming Division of Criminal Investigation doesn't include minor traffic violations in its reports.
The criminal investigation division recorded 20,957 crimes in Wyoming for 2021. While many law enforcement agencies throughout the state reported to this state division, not all did or submitted complete data.
According to the report, the Jackson Police Department reported 57 criminal offenses last year. Meanwhile, Teton County reported 163 offenses.
The Teton County Victim Services also collected information from 542 crime victims from July 1, 2021 through June 30. From that data, the agency learned that: 28% involved property destruction; 23% larceny, fraud and identity theft; 13% adult physical assault; 10% DUI and other vehicle victimizations; 9% domestic violence; 4% stalking; 2% adult sexual assault; 2% child sexual assault; and 2% protection order violations.
"Crime data can have ripple effects in communities," Ruschill of the Jackson Police Department told the Wyoming Truth, emphasizing the importance of collecting crime data and transparency in government. "Individuals, private businesses, government agencies, insurance companies, and others all make some decisions based on crime data."
Hilary Erickson gathered and organized the data for this article.