WOMEN TO KNOW IN WYOMING: Jackson Producer Tapped to Launch New Film Festival
From film industry fixer to festival director, Marni Walsh's expertise brings the movies to the mountains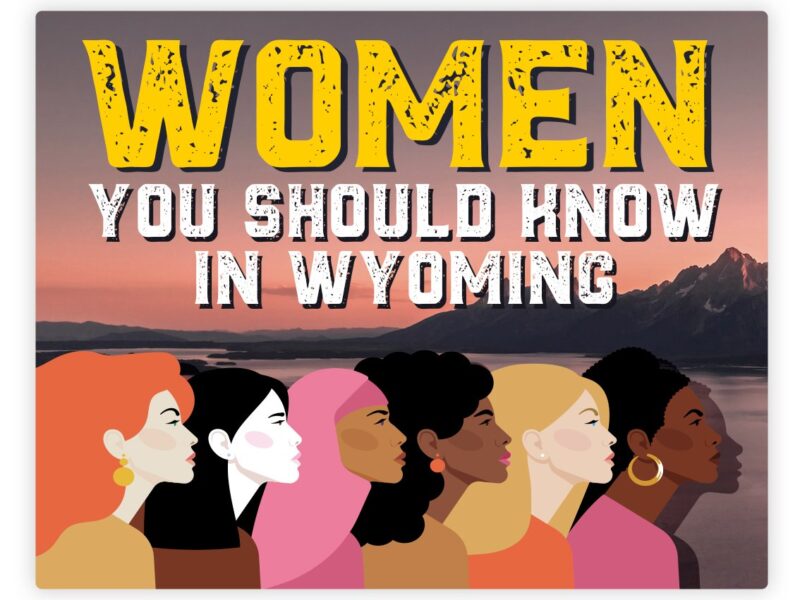 By Sarah DiMuro
Special to the Wyoming Truth
Last spring, Stuart Suna, founder of the renowned Hamptons International Film Festival in New York, decided to launch a film festival in Jackson Hole in December 2023. A Jackson resident since 2019, Suna wants to contribute to the culture of the community, telling the Wyoming Truth that a film festival is a great way to "bring art and commerce together, to help stimulate local economy and artistic imagination."
From his experience with the New York festival, Suna knew a key component would be hiring an executive director who knows the ins and outs of the local film world. Enter Marni Walsh, Jackson resident and award-winning film and television producer.  
Walsh has been a producer for over 25 years, working on projects that have aired on the Discovery Channel, HBO, BBC and NBC. She and her team of producers won an Emmy for their work on National Geographic's 2018 "Wild Yellowstone" series. Walsh also worked on the 2019 documentary "Heart of Glass" about the early days of Vertical Harvest, the innovative hydroponic greenhouse in Jackson that employs people with disabilities.
When mutual friends introduced Suna to Walsh, he knew he'd found the Jackson Hole International Film Festival's full-time executive director. "We got very lucky," said Suna.
And Walsh had found a new challenge. "The opportunity is an excellent match for my love of everything cinema," she told the Wyoming Truth. "I'm excited to highlight emerging voices in cinema and develop festival programming for many years to come."
Coming into focus 
Walsh, 53, first came to Jackson in 1991 for ski season, having just graduated from Syracuse University in Syracuse, New York. She soon fell in love with the landscape and knew she couldn't leave.
"I fell into film production, as it was a medium of work that allowed me to be in the mountains," recalled Walsh, who grew up outside Philadelphia. She took whatever jobs she could find, working on commercials, helping cinematographers on shoots and even working part time at the local TV station. And she thrived being behind the scenes during those early gigs.
"You learn as you go when you are working in television and film production," said Walsh. "Sure, I knew about the fundamentals from college – the cameras and the editing – but it was really working on actual assignments that I was able to grow my expertise and understanding of how it all came together."
She also learned how to navigate production challenges. To Walsh, a problem is truly nothing more than an opportunity to deploy her operational skills.
"This job is never boring," Walsh said. "You are always problem solving, always doing logistics. But it's not for everybody. It's really important to keep calm. Don't stress. If you are going to get stressed out because something isn't going as planned and you can't just roll with it, this world might not be for you."
Problem solving, project managing
As a producer, Walsh said her role is to ensure that "everyone has what they need to do their job, get the best shots, tell the best story."
But she also stresses the importance of always having a back-up plan. "When you are shooting, nothing ever goes according to plan," she said. "Especially when you are dealing with shooting in Wyoming, there's always something with the weather."
Jon Klaczkiewicz, head of production at Teton Gravity Research, saw Walsh's professionalism firsthand when they collaborated on a Wyoming Tourism project last fall that involved dogsledding, snowshoeing and cross country skiing. Walsh hopped in her car and determined exactly which locations would work for each of the shots they hoped to capture.
"The client was in town for three days, and we needed to get a lot done," he said. "Marni never says anything isn't possible; she will always figure out what options can work."
Chad Jackson, a former producer in Jackson who worked with Walsh on the 2019 HBO project, "Lindsey Vonn: The Final Season," agrees that Walsh is the "go-to person" in the Jackson area for film production. "She knew how to navigate politics, government permitting–she knows the ins and outs of how to make production in the Valley work better than anyone else," he said.
Ready for the spotlight
These days, Walsh is enjoying a hiatus from film and television production as she focuses on organizing the upcoming Jackson film festival (Dec. 8-10), which will take place at the National Museum of Wildlife Art. The three-day event is a collaboration with the Hamptons International Film Festival, Suna said, so it can "launch and grow quickly." The Jackson festival will feature between seven and nine films from all over the world—curated by artistic director David Nugent, who also works with the New York festival—as well as panel discussions with the films' directors and production teams.
Suna said the films will include documentaries, international films and potential Oscar nominees.
"To be nominated for an Academy Award, you have to show your films in either theatres or festivals, and you have to do this before the end of the calendar year," said Suna, co-founder of Silvercup Studios, where HBO's "Sex and the City" and "The Sopranos" were shot, among other iconic TV shows and movies. "So this is a great opportunity for [filmmakers] to get their films seen in the public domain and become eligible for awards season." (Suna and his brother sold the studio in 2020.)
As executive director, Walsh is involved in all aspects of planning the festival, including fundraising through foundation grants, corporate sponsorships and individual donations, and organizing programming to educate future generations about film production. Walsh designed the curriculum and presented several technical workshops to Jackson Hole High School media arts and computer science students, who talked shop with film industry professionals while they practiced and learned filmmaking techniques. The workshops will continue next year.
Next summer, the festival will offer a children's film camp in collaboration with another local nonprofit, said Walsh, noting that the program is still in development.
Walsh is thrilled for the chance to make the Jackson film festival one of the best in the country and knows her years as a producer have prepared her well for the job. As she said, "When it's fun, it's not work."