WOMEN YOU SHOULD KNOW IN WYOMING: Laramie botanist thrives in wilderness classrooms
Dorothy Tuthill shares nature knowledge through interactive hikes, camp outs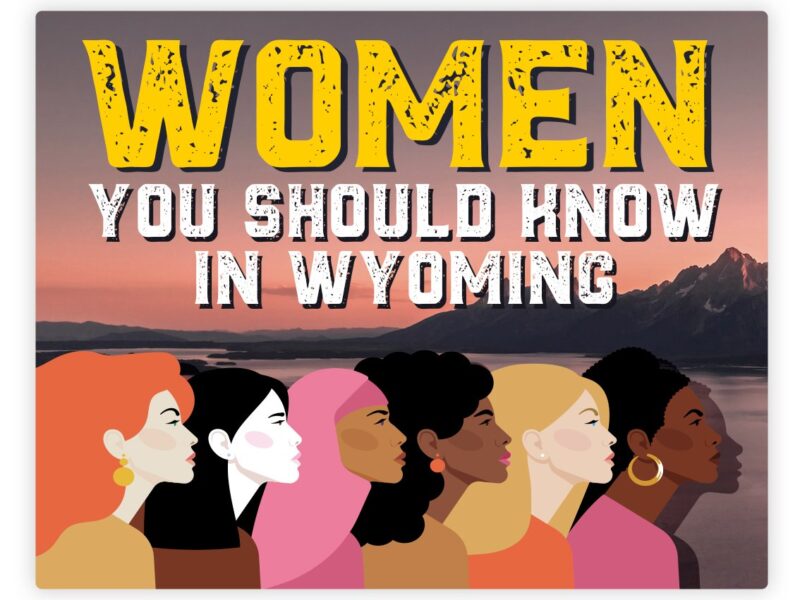 January 25, 2023
By Elizabeth Sampson
Special to the Wyoming Truth
Most classes end with a final written test, but Dorothy Tuthill's students can expect a tent and a campfire instead.
Tuthill's students are participants in the Wyoming Naturalist Program, which prepares volunteers to become active conservationists who will protect the state's natural resources.
"Our goal is to develop a group of well-trained and enthusiastic volunteers who contribute their time to conservation in the state of Wyoming," Tuthill told the Wyoming Truth.
Tuthill, 65, of Laramie, helped launch the program in 2021, and she has organized its basic classes, even teaching a couple herself. The online classes last 16 weeks and cover topics like geology, ecology and birds; Tuthill teaches classes in botany and mycology. Students finish their basic training at a two-day camp out, where they put their knowledge and skills to practice.
From there, the naturalists contribute 40 volunteer conservation service hours in a year to earn their naturalist certification. About 60 students have completed the training so far, and those newly minted naturalists have provided a combined 1,200 volunteer service hours.
"Some people like to get out and be physical, ripping out old fences for wildlife, but not everybody does that," Tuthill said. "Any volunteer service that supports a conservation organization in the state will probably qualify."
Lifelong nature lover
Tuthill has devoted most of her career to helping people understand and appreciate nature—no surprise, given that her parents were both naturalists. She grew up in Massachusetts, but spent her summers in dry sandy places where her father, an entomologist, studied ground-nesting wasps.
"When we weren't watching wasps, my siblings and I enjoyed painting wildflowers on rocks and playing in streams," Tuthill recalled. "We always traveled with enough insect nets for everyone, so catching butterflies, dragonflies and beetles were regular pastimes."
After earning a bachelor's degree in geology at Cornell College in Iowa, Tuthill knew she wanted to study living things in graduate school. She earned a master's degree and doctorate in botany from the University of Wyoming, where she studied mycology and researched the genus penicillium.
Helping to organize the Wyoming Naturalist program is not the only way Tuthill connects Wyomingites with nature. As the associate director and education coordinator for the University of Wyoming Biodiversity Institute, she takes science to the citizens through educational events statewide.
Enter Wyoming BioBlitz, an annual weekend camping trip that brings together scientists and nature lovers to study plants and wildlife, as well as collect data for scientific study. Tuthill is on the organizing committee for the public event, a cooperative effort with the Biodiversity Institute, Audubon Rockies and Wyoming State Parks. This year, BioBlitz will take place at Medicine Lodge State Archaeological Site—home to big rock cliffs and big trees, with ample hiking options.
"The object of the BioBlitz is to spend a weekend intensely studying all the organisms in a particular place," she said. "Last summer, we were at Guernsey State Park. We found hundreds of species there that we were able to document—so insects, plants, birds, herps."
For Tuthill, the most exciting Bioblitz took place at Bear River State Park.
"We were allowed to set up tents in a lovely grassy, shaded area," Tuthill said. "However, as the river started to overflow its banks the next day, we all had to move to higher ground. Then Sunday, during breakfast, it snowed. Nonetheless, we were treated to hillsides of blue penstemons and a meadow of magenta shooting stars."
Jacelyn Downey, the education programs manager for Audubon Rockies, loves learning from Tuthill.
"If you go on a hike with somebody else, maybe they would just be interested in the destination they are headed to," Downey said. "If you go on a hike with Dorothy, she is going to be excited about everything you could possibly see on the way, stopping to identify a tiny little plant and asking why is that plant growing there? Is there a pollinator there, and why is that pollinator there? What is the soil like?"
Natural fun
The natural world isn't just Tuthill's workplace; it's also where she finds her fun. An accomplished weaver, she uses wool and plant fibers to make coats, shawls and dishtowels.
Tuthill has served on the board of the Wyoming Native Plants Society for as long as she can remember. The organization holds just one meeting a year: a weekend of camping and inspecting plants.
One of her favorite spots is Chalk Mountain, located on the northwest side of Shirley Basin. "There are really unique plants that are mostly about four inches tall, because it's a big, windswept flat mountain top," Tuthill explained. "There are really interesting little flowers, but you have to go in the spring before everything dries up."
For Tuthill, the natural world provides a welcome escape from the pressures of daily life.
"When I go outside I forget about the concerns I have about work, about paying bills and all those other things," Tuthill said. "I can go out, and I can look at the plants and the insects and the birds. It's like having hundreds of very diverse neighbors to converse with—and they don't talk back."
Still, she cautions those new to Wyoming's outdoor spaces to always plan ahead: "We all know the weather can change really fast in Wyoming. Never go outside without a jacket, no matter how warm it is when you leave home. And, of course, [don't forget] water."