WYOMING SCHOOLS AT A CROSSROADS: Latina Youth Conference Promotes Leadership, Education
Latina students from across Wyoming receive messages of "empowerment"
By Elizabeth Sampson
Special to the Wyoming Truth
LARAMIE, Wyo.— More than 300 Latina youth heard messages of empowerment and the value of education while attending the 22nd annual Latina Youth Conference at the University of Wyoming on Oct. 14-15.
"You do not need permission from others to lead," Guillermina Gina Nuñez-Mchiri, the first Chicana dean of San Diego State University and keynote speaker, told the participants. "You want to change the world? Step up."
Nuñez-Mchiri's leadership message is timely, as a record number of Latinas are seeking office in the 2022 election cycle. Six Latinas are running for governor nationwide, while 92 Latinas are running for the U.S. Congress.
Nuñez-Mchiri encouraged the students—5th through 12th grade girls from across Wyoming—to seek out leadership roles themselves, enter a room with confidence and dream big.
"Why?" she asked. "Why not? It doesn't cost you anything to have big aspirations."
Nuñez-Mchiri joined an impressive list of Latina role models who have addressed the conference, including civil rights activist Dolores Huerta, who worked alongside Cesar Chavez, and Linda Alvarado, who founded a major construction company and is the co-owner of the Colorado Rockies.
During the two-day event, participants attended workshops that ranged from financial literacy to natural resources. The girls were divided into groups and each group was assigned two UW mentors—most of whom attended the conference as high school students.
"We just want to inspire young Latina girls to want to pursue a higher education," said
Lezly Diaz, a UW sophomore psychology major from Jackson Hole. "We want to tell these young girls that they are seen, and they can do what we are doing. If we can do it, they can also do it."
Rock Springs School District, one of 24 districts represented at the conference, brought 32 junior and senior high students to Laramie. Amanda Margrave, a graduation coach at Rock Springs High School, believes it's a valuable experience for her students.
"It's so empowering for the youth," Margrave said in an interview with the Wyoming Truth on Saturday. "It shows them all of this stuff is possible and attainable."
She added, "To have these adult mentors and workshop leaders who are also Latina has been so good for the kids to see. I think a lot of the girls that I've [brought to the conference] at least have taken a few college classes at local community college and worked harder in their studies and graduated. Even if they didn't graduate from college and just took a few classes, they got more education than the generation before. Now they know its value and can pass that on to their children."
Maria Baeza, 15, who plans to join the Air Force after high school and then pursue a career in law, was energized by the messages she heard and the people she met.
"It's nice to see so many Latina women coming together, showing they can do more in life," said Baeza, whose older sister also benefited from attending the conference in previous years. "It shows you can be someone."
Naomi Luque, 15, was troubled to learn that statistically speaking, Latinas are less likely to attend college than other demographic groups, but encouraged to hear that those numbers are improving. She especially enjoyed the camaraderie at the conference.
"Everyone comes together," said Luque, who plans to study criminal justice at UW in preparation for a career as a private investigator or detective. "All the teachers are really nice. They're just trying to show us to really like school, and obviously it is really important to go to school."
Estrella Vensor, 16, hoped to learn more about her heritage at the conference. She heard some powerful messages, including that Latinas are discovering they have more opportunities than society has led them to believe.
"I like how they are showing us that we can be more than what people tell us to be," Vensor said. She plans to own a baking business or food truck someday.
Youth Conference started small, continues to grow
When Ann Redman of Cheyenne founded the conference in 2000, it was in response to grim statistics pertaining to Wyoming's Latina population.
"You can just imagine the story of a young Latina in the year 2000," said Cecelia Aragon, the conference's current executive director and professor of Latino/Latina studies at UW. "I get pregnant. I drop out of school. I have no job. There's a 75 percent chance that my infant will survive. Of course, there's also the other layer of teenage suicide. All of these rates—poverty, teenage suicide, violence, domestic abuse, infant mortality rates, pregnancy, drop-out rates—were off the charts for Wyoming, specifically among young Latinas."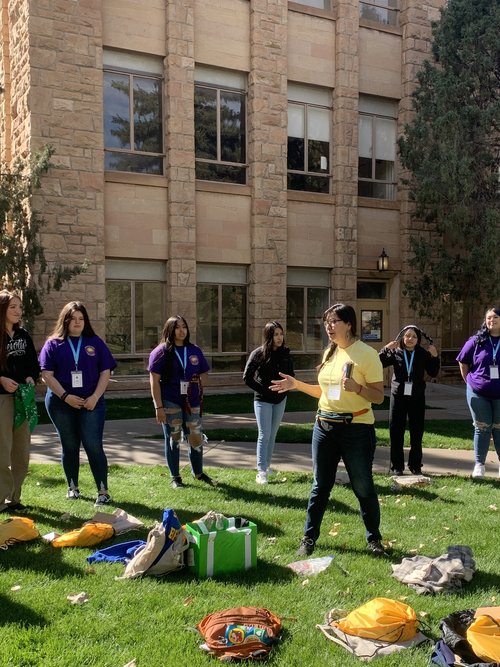 Aragon noted that while those numbers remain high, she believes life for Latinas in Wyoming has steadily improved, thanks, in part, to the conference.
"Now have we made a mark in the statistics?" Aragon said. "I would say, 'Yes we have —slowly.' You can't change a culture in just four or five years, but this organization is going on its 22nd year."
The conference started small. Redman worked with a Hispanic scholarship organization in Cheyenne to plan it, but when only 10 girls signed up, the organization's board backed out.
Though Redman was disappointed with that decision, she told the Wyoming Truth that she refused to get caught up in numbers. Even if she only helped one girl, Redman knew the effort would be worth it. So she struck out on her own, collaborating with Laramie County Community College to host the inaugural conference that brought together 130 Latinas.
Beginning in 2022, the conference is leveraging the resources of the new Wyoming Latina Youth Center, which is under the umbrella of UW and run by Aragon. The center provides leadership training for Latina college students, who help organize the conference and receive a certificate in leadership upon graduation.
Money for travel and research is available through the center, as well as five $2,000 scholarships for incoming first-year students who commit to serving as conference mentors.
"We get them right into the college leadership pipeline," Aragon said. "They work here, and they find a safe space here with us. We do academic advising if we need to, we provide them with information about the campus and we are always in contact with the parents."
The center also oversees the Wyoming State Network Language Access program, which was formerly operated by the Wyoming Department of Health. Now the center will help Latina students obtain translation certification that will allow them to offer language services in the educational, judicial and medical fields.
"Eventually our goal is to get young women to be translators and to get them also a certificate so when they graduate, they come out of this program with a skill," Aragon said.
As for the conference attendees, they came out of Nuñez-Mchiri's workshop with a new understanding of leadership and their own self-worth.
"If you value who you are, you are going to be open to valuing other people," Nuñez-Mchiri said. "Accept who you are. Embrace that identity."